Chieftain girls make quick work of Tigers
THS

advances to sub-state semifinals, will face Hayden
Photo Gallery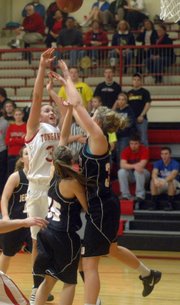 Tonganoxie basketball vs. Jeff West
The Tonganoxie High basketball teams advanced to the sub-state semifinals Tuesday by defeating Jeff West at home. The girls cruised to a 53-36 win and the boys picked up a 60-48 victory.
With sub-state competition in full force, winning is officially the only thing that matters. However, doing so comfortably never hurts.
That's exactly what the Tonganoxie girls did Tuesday, as they rolled to a 53-36 win over Jeff West in quarterfinal action.
"A win is how you want to start sub-state, no matter how you get it, but we did a lot of good things tonight," coach Randy Kraft said. "Things are a little different and you've got to make adjustments, but the kids did a good job."
The Chieftains (15-6) grabbed a 13-7 lead at the end of the first quarter, but struggled to gain control in the early going. The Tigers (6-15) stayed within two possessions until an 8-0 THS run late in the second. Senior Amanda Holroyd drained two 3-pointers during the scoring burst, which ultimately put the Chieftains on top for good.
The teams traded punches for the remainder of the first half and THS took a 30-17 lead into the locker room.
Kraft's squad quickly erased any thoughts of a Jeff West comeback when it opened the third quarter on a 10-4 run. The Chieftains outscored the Tigers by an 18-7 margin in the period.
Junior Jenny Whitledge, who scored just four points in the first half, found her way to the basket several times after intermission. She finished with a game-high 14 points.
The majority of Whitledge's layups came on fast breaks, as the Chieftains forced 20 turnovers in the contest.
"I think we played better defense in the second half, which kind of opened up running the floor," Whitledge said. "Running the floor means a lot of two-on-ones. We had great defense in the second half."
Senior Tavia Brown also made the Tigers pay after the break. She finished with seven points and a team-high 10 rebounds.
With the victory, the Chieftains advance to the sub-state semifinals. They'll face Topeka-Hayden Thursday in Bonner Springs. The Wildcats handed Bishop Ward a 59-36 loss on Monday, but lost senior and leading scorer Nicole Federico to an ACL injury.
Even without its top post player, though, Kraft said Hayden still has plenty of tools to make a postseason run.
"They've got a lot of talent on that team," he said. "I watched them (Monday) night and they've got some big, athletic girls. They're a very disciplined team."
Thursday's tipoff is set for 6 p.m.
Score by quarter
Jeff West 7 10 7 12 — 36
Tonganoxie 13 17 18 5 — 53
Individual scoring
JEFF WEST — Erika Essman 4-18 0-0 10, Molly Hothan 4-7 1-1 9, Victoria Johnson 3-7 1-3 8, Olivia Brees 1-2 1-1 3, Sydnee Mundhenke 1-3 1-4 3, Haley Siess 1-5 0-1 2, Danielle Slimmer 0-0 1-2 1, Katie Ricklefs 0-2 0-0 0.
TONGANOXIE — Jenny Whitledge 5-9 4-4 14, Hannah Kemp 4-8 1-2 9, Amanda Holroyd 3-8 0-0 8, Tavia Brown 2-7 3-4 7, Emma Stilgenbauer 3-5 0-1 6, Haley Smith 1-4 0-0 3, Katelyn Waldeier 1-2 0-0 2, Madee Walker 1-2 0-0 2, Emily Soetaert 1-2 0-0 2.