Senior boys reflect on hoops careers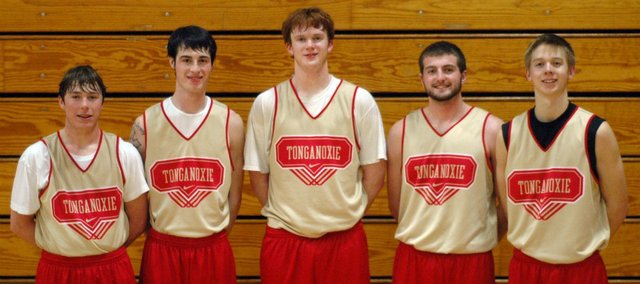 When the 2008-09 basketball season began, five players set foot on the Tonganoxie High court for the first time as high school athletes. In Tuesday's sub-state opener against Jeff West, those players ended their final home game the way they began their first: together.
The school's official senior day actually took place Feb. 21, but that wasn't the end of the road for the class of 2012. Instead, Dane Erickson, Colby Yates, Ben Williams, Dylan Jacobs and Brady Waldeier got one more chance to perform in front of their home crowd when the Chieftains handed the Tigers a 60-48 loss.
"It's kind of weird," Yates said. "When you start out as a freshman, you never think you'll never have another home game. It will be tough realizing I won't get to play basketball again with my buddies."
The seniors may have said goodbye to the gym they've called home, but that doesn't mean they've hung their jerseys up for good. Tuesday's win guaranteed the Chieftains at least one more game — a sub-state semifinal matchup with Topeka-Hayden Friday in Bonner Springs.
THS enters Friday's matchup with the Wildcats on a three-game win streak. The winner of the sub-state tournament will advance to the Class 4A state tournament March 7-10 in Salina.
However, according to Erickson, who surpassed 1,000 career points against Piper, now isn't the time of year to start looking ahead. Erickson, who described the senior night win as an unforgettable experience, admitted a win against the Tigers would be no less memorable to him and his fellow seniors.
"It means about the same thing," Erickson said. "It's always good to go out on your home court with a win. It's been a great four years playing here at Tongie, and that's the way we all want it."
All five seniors received individual recognition at ceremony before last week's Piper game. Coach Shawn Phillips started all five and had each one named as they left the court at the end of the contest.
After sharing the hardwood for so many games, Yates said the seniors have developed a sense of familiarity that can only be acquired over time.
"Playing so much basketball together for the last four years, we can basically tell what each other is going to do before we do it," he said.
Erickson echoed those thoughts and expressed his gratitude for the lessons Phillips has taught him and his teammates since they first put on red and white jerseys.
"It's been great. I've learned so much," he said. "With coach Phillips there as a mentor for us for the last four years, it's helped me become a better person all around. When I become an adult, it will help me to succeed in life."