Senior lifters prepare for final meet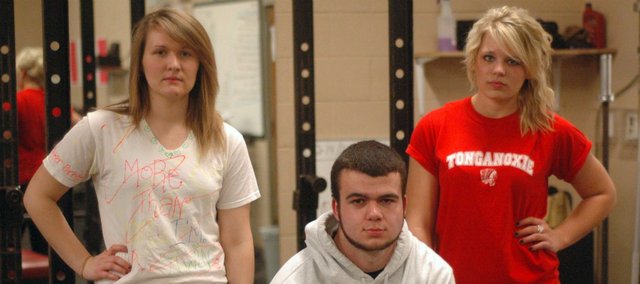 For Tonganoxie High seniors Makayla Sample and Tyler Stockman, being part of a Chieftain sports team for four years just wasn't enough. Instead, they chose to help build a program from the ground up.
Sample and Stockman are the only remaining members from Tonganoxie's inaugural powerlifting team, which started the program during the 2008-09 school year. They're quickly approaching the end of their final season as high school athletes, but recently took some time to reflect on the evolution of a team that started as nothing more than a group of curious students nearly four years ago.
"When we started, we had maybe 10-15 kids. We've grown to upwards of 30-35 kids," Stockman said. "It's been an awesome ride. It took dedication from everybody. Nobody knew what to expect our freshman year. We just had to buckle down and develop. Our whole strength program in general has developed in the last four years — not only in powerlifting, but in our school-wide stuff as well."
Since the inception of the program, the Chieftains have enjoyed plenty of success. They've brought home numerous plaques and gold medals, including a handful from the previous three state tournaments.
Sample, who has finished fourth, third and second in her first three state appearances, said she and Stockman have spent her final season teaching underclassmen the ropes of a program they had little experience with when they first started.
"Freshman year, there were a lot of people, but I don't think they really knew what it was about," she said. "Now, the seniors who went through it all four years, we can help the younger ones and explain more about what goes on every day."
Entering last Saturday's Horton Invitational, Sample had won gold medals in every meet this season. Stockman owns a pair of top-10 finishes, including a fourth-place finish at the Royal Valley Invitational on Jan. 28. Results from the Horton meet were not available at press time.
While they're the team's only four-year veterans, Sample and Stockman aren't the only seniors on this year's roster. They were joined before the 2011-12 season by first-year lifters Parker Osborne and Derek Lingo. Osborne placed fifth at the Basehor-Linwood Bobcat Invitational on Jan. 7, while Lingo took sixth at Royal Valley.
Osborne, a former basketball player, quickly learned the amount of self motivation the sport requires.
"It's a lot of hard work where you definitely have to have discipline," she said. "It's more self discipline than anything. (Bond) isn't going to stand there and baby you. He had plenty of other people to watch over, so it's more about yourself and making sure you're on track. If you want to get better, then you have to work on it."
All four seniors will look to end their lifting careers on a high note when they compete in the 2012 state tournament Saturday in Abilene. The girls have placed at the last two state meets and will look to do so again this year, and Stockman is hopeful the boys can follow suit.
"We have a lot of guys coming out for the state championship that have been in wrestling and basketball," he said. "I think they're going to play an integral part, but our core group of guys, they have what it takes."