Trio of Chieftain girls eye state in final year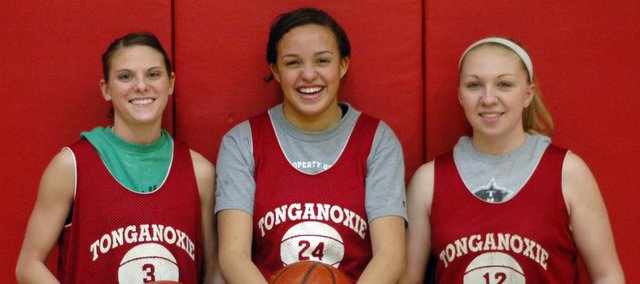 When seniors Amanda Holroyd, Tavia Brown and Haley Smith were honored during last week's senior night festivities, all three admitted it was a strange feeling. The trio helped the Chieftain girls defeat Piper in their final regular season home game on Feb. 21, but it wasn't the last time they'd welcome a team to their home floor this season.
However, one week later, the journey really is nearing its end. THS rolled to a 53-36 win over Jeff West in Tuesday's sub-state quarterfinal, officially marking the final home game for the class of 2012.
"Since I've been here, this is the first time we've been able to play at home in sub-state," Holroyd said. "It just means a lot that it's my senior year and it's the first time in a while we've been in the upper bracket."
The Chieftains have now won three straight contests. The victory against Jeff West earned them a spot in Thursday's semifinal against Topeka-Hayden in Bonner Springs.
The seniors haven't necessarily taken the same path to where they are today, but said they've grown as teammates and friends along the way. Holroyd and Smith have each been in the program for four years, while Brown transferred to Tonganoxie the February of her freshman year.
Almost immediately, she found a family with which she's now shared a locker room for more than three years.
"When I was a sophomore, the seniors took me under their wing and I was like their baby," Brown said. "Then my senior class, we've been really close. We're all friends out there and we support each other."
The trio has been active in sports other than basketball during their Chieftain careers. Smith was a member of the volleyball team and each has played softball. They have also shown they can succeed in the classroom, as all three were named to the school's honor roll in January.
For now, though, the focus remains on the hardwood, where Smith hopes her team's best basketball is still yet to come.
"There's obviously going to be ups and downs, wins and losses, but just being able to come out, play and have fun with all my friends, it's been a blast. It's definitely helped me become who I am now," she said. "It would be awesome to get one more win, but I want to get three more wins to get into state.
"Getting that chance to go to state would probably be one of the biggest things we've accomplished as a team."