Chieftain boys routed by Braves at home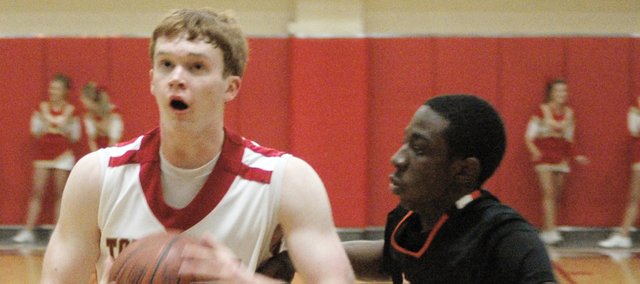 Even before Bonner Springs set foot in the Tonganoxie High gym, Chieftain coach Shawn Phillips had a bad feeling.
When it was all said and done, Phillips' gut reaction couldn't have been more correct.
Senior Colby Yates led all scorers with 13 points, but Tonganoxie (3-2) had no answer for the Braves on either end of the floor in a 59-28 loss on Tuesday.
"I had a feeling that we might not play the best because we haven't had a good week of practice," Phillips said. "It showed on the floor tonight.
"(Bonner Springs) has got a lot of guys who have played minutes and know what they're doing. They've got a lot of athletes on their team and they dictated the tempo."
Both teams had trouble getting shots to fall early on, but Bonner Springs got into a rhythm midway through the first quarter. They led 18-10 at the end of the opening period and never took their foot off the gas.
The Chieftains, who entered the contest on a three-game winning streak, struggled from the floor all night. They turned the ball over 10 times in the first half, allowing the Braves to extend their lead to 34-18 at the break.
The offensive mishaps continued in the second half, as Tonganoxie committed 16 turnovers to Bonner Springs' four.
"We struggled taking care of the basketball against their pressure," Phillips said. "When you limit your opportunities and give the other team extra opportunities, that's never a formula for success."
Tonganoxie never threatened in the second half, as Bonner Springs extended its lead to 49-24 at the end of the third quarter. The gap reached 30 in the fourth, putting a running clock into effect.
Defensively, the Braves put a lot of emphasis on shutting down Chieftain senior Dane Erickson. Erickson, Tonganoxie's leading scorer and rebounder, was held to just seven points and five boards.
"Erickson is a heck of a player, so we knew we needed to try to front him," Bonner Springs coach Andrew Price said. "We did that most of the time, but every time we didn't front him, he scored. Pretty much, the guys did what we wanted to defensively."
Junior Tyler Howell led the Braves with 10 points on 5-of-5 shooting and five different players each added eight. Yates was Tonganoxie's only player to reach double figures.
The Chieftains will try to start a new win streak when they hit the road to face Mill Valley on Friday.
Score by quarters
Bonner Springs 18 16 15 10 — 59
Tonganoxie 10 8 6 4 — 28
Individual scoring
BONNER SPRINGS — Tyler Howell 5-5 0-0 10, Stevie Williams 4-9 0-0 8, Jordan Jackson 3-5 0-0 8, BJ Watson 2-8 3-6 8, Joseph Dooley 4-6 0-0 8, Ivory Elijah 3-6 1-3 8, Brett Steuart 3-3 0-0 6, Jourdaine Smallwood 1-4 0-0 2, Brandon Moore 0-0 1-2 1, JJ Jackson 0-3 0-1 0.
TONGANOXIE — Colby Yates 3-5 6-8 13, Dane Erickson 1-3 5-9 7, John Lean 1-6 2-2 4, Eric McPherson 2-4 0-0 4, Brennan Williams 0-1 0-0 0, Tyler Ford 0-2 0-0 0, Dylan Jacobs 0-3 0-0 0, Josh Ghale 0-2 0-2 0.