Linenberger: 12 resolutions for '12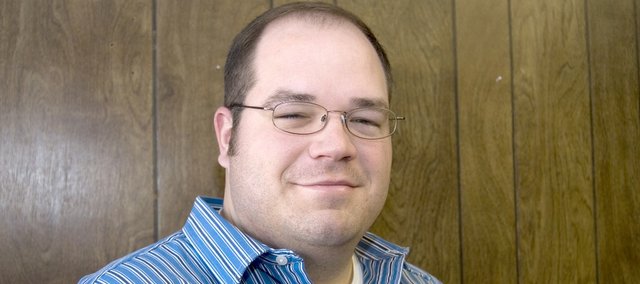 The Christmas season seems to have flown by far too quickly, but I've conjured up the idea of living 2012 based loosely on a holiday song.
Well, more importantly, with imitation being the purest form of flattery, I'm copying one of our new "voices" next door to the print-edition version of this column on page 6.
In last week's edition, we posed the question: "Do you have any resolutions planned for 2012?"
Grant Ritchey's response was that he planned to choose a smaller challenge each month, with the idea that smaller challenges stand a better chance of not being broken than some colossal resolution or resolutions.
So, with that in mind, here go my "Twelve resolutions of the New Year," on which I hope to follow through:
For the first month of resolutions, my New Year gave to me … better eating, increased exercise and healthier habits.
This likely is the most common resolution, but for good reason. With exercise and better eating comes more energy, which can translate into getting more things accomplished and satisfying other resolutions.
It was nice during the days of playing football when I had required daily exercise. Making yourself exercise regularly is, of course, a completely different story. And sometimes one's job doesn't always allow for the greatest of healthy eating plans.
Here's to eliminating excuses and eating better and exercising regularly.
For the second month of resolutions, my New Year gave to me … more time spent with friends and family.
Considering this is the month that includes Valentine's Day, it makes sense to put some more emphasis in showing some love to those about whom you care. Even if it's catching up with friends and family via Facebook, Skype or a phone call, it's something I certainly could do on a more regular basis.
For the third month of resolutions, my New Year gave to me … a little less soda pop.
This resolution comes during the Lenten season, so perhaps it can double as my Lenten sacrifice. Of course, if memory serves correctly, I'm the same guy who once gave up soft drinks unless in a mixed drink and chocolate, sans Oreos.
Defeating the purpose?
You bet, but I guess we all have an occasional weakness.
I tend to hike up the caffeine intake with deadline approaching, so perhaps replacing the Coke Zero or Diet Cherry Dr. Pepper with some water would be best.
For the fourth month of resolutions, my New Year gave to me … budget time.
Ah, April. Tax time! Another common resolution is better budgeting. Well, no better time than tax time to improve budgeting finances.
For the fifth month of resolutions, my New Year gave to me … organized chaos.
Do you ever get your desk, house or car cleaned and it seems that, in no time, it's back to the same unorganized state — or worse? Well, May, it's time to get all of these things more organized.
For the sixth month of resolutions, my New Year gave to me … a change in my social media routine.
What's the saying about talk at the dinner table — avoid discussion of politics and religion?
Sometimes I wish that extended to Facebook. It's fantastic that Facebook provides a venue for discussing politics and more. Sometimes I wonder what it would have been like in other major moments in history if we had social media to discuss our views, but it can get to be a bit much.
You don't like President Obama or his policies. I get it. But posting some photo saying the national debt numbers under Obama's administration are more than those under all previous presidents combined seems to be taken a bit out of context. And where's the accompanying information from a credible source?
I'm all for some reasonable debate, but some posts cue the rolling of the eyes.
Quite frankly, I should add sports to my aforementioned list. The time I spend on arguing about sports on Facebook could be better used exercising or catching up with a friend.
For the seventh month of resolutions, my New Year gave to me … more drinks.
An unorthodox resolution, but hear me out. While having a New Year's Eve meal with friends and enjoying an adult beverage with said food, a friend commented on really enjoying the rare drink.
I mentioned that it should be a resolution to drink more in 2012, with the idea that the occasional night of drinks would be a good release from hectic schedules and such and a fine way to unwind.
For the eighth month of resolutions, my New Year gave to me … a few good books and pen and paper.
National Reading Month is March, but I plan to carve out more time for reading and perhaps some more leisure writing in August. Maybe when it's 105 degrees outside, I can be inside enjoying a book or writing on a personal blog.
For the ninth month of resolutions, my New Year gave to me … reunions with friends I haven't seen.
Plans are in the works for past members of the Kansas University student newspaper, the University Daily Kansan, to join together for a mega-reunion in Lawrence. I must say I'm eager to connect with some folks I haven't seen in some time, including those I haven't caught up with in about a decade.
For the 10th month of resolutions, my New Year gave to me … a bit more emphasis on the family.
My mother celebrates a birthday this October, so what better time to pay a bit more attention to the person who plays such an intricate part in your life? Same goes for my brothers and extended family, and of course, thinking more about my father, who passed away more than seven years ago. Time sadly flies by far too fast.
For the 11th month of resolutions, my New Year gave to me … Kansas University football bowl plans.
I suppose we should file this under unreasonable resolutions, but it's hard to tune down my offseason excitement for KU football.
I'm sure it's hard justifying such optimism following a 2-10 season, but a new coach is bringing a noticeable buzz to Lawrence.
If you don't dream big, why dream?
Note to self: when paying extra attention to budgeting in April, be sure to classify one area for "KU bowl." This can change to "rainy day fund." OK, so that's probably what it will be, but fingers crossed.
For the 12th month of resolutions, my New Year gave to me … a little less procrastination.
See what I did there? I put off tackling procrastination until the final month of the year.
Well, it's a pretty good month to select if you think about it. Defeating the tendency to put things off could mean getting up Christmas decorations at the beginning of the month, actually sending out Christmas cards and taking time to appreciate the "reason for the season," as well as loved ones.
Yes, procrastination, it's time to hit the road.
And so it begins. Time to get serious about my 12 resolutions. I hope to let you know in about 365 days how successfully this whole plan worked out.