New Year's Sparks
Couple's first child also Tonganoxie's first of 2012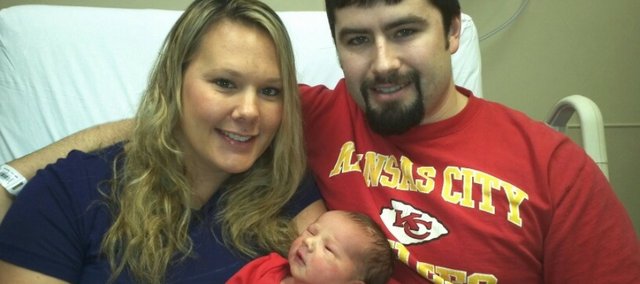 Sondra Sparks has 20 kindergartners in her class at Tonganoxie Elementary School.
Add one more special youngster to her list of children.
Sondra and her husband, Derek, welcomed their first child into the world at 4:57 p.m. Monday — Mason Gabriel Sparks — at Overland Park Regional Medical Center.
Mason weighed 8 pounds, 2.6 ounces and was 20 inches long.
He also was the winner of The Mirror's First Baby of the Year Contest.
"It was a pretty exciting way to start the new year," Sondra said.
They didn't know whether it would be a boy or girl until the baby was born, a decision Derek said the Tonganoxie couple agreed upon from the beginning — they didn't want to know the child's sex until birth.
"Grandpas and grandmas didn't like that, though," Derek said with a laugh.
Sondra, who is 29, said that it's definitely a new experience having one of her own while also teaching many other parents' children.
"Oh, it's the best thing in the world," Sondra said. "Pretty special."
The TES teacher said she couldn't recall fielding any interesting questions from her students about the baby while she was pregnant but did note that most of her students thought it would be a girl.
Her husband's prognosticating was off as well. The baby's due date actually was Dec. 29, but Derek thought for sure the baby would be born Dec. 19.
"So you see how far I was off," said Derek, who is employed at Quality Technology Services in Overland Park.
Derek, 25, and Sondra, 29, met at Ottawa University where both played sports — Derek baseball and Sondra softball after first playing at Cloud County Community College in Concordia. Derek, a Tonganoxie High School graduate, and Sondra, a Council Grove High School graduate, excelled on the diamond, but Derek said Mason doesn't have a bat and glove — yet. And that's OK by him.
"I suppose if he wants to be a baseball player, he can," Derek said. "I'm not going to push him into it. If that's what he wants to do, we will certainly help him out as much as we can."
Mason's paternal grandparents are Gregg and Karen Sparks, Tonganoxie; maternal grandparents are Bruce and Joleen Day, Council Grove. Paternal great-grandparents are Wanda Harker, McLouth, and Maxine Sparks, McLouth; maternal great-grandparents are Doris Day, Council Grove, and Don and Dorothy Schiesser, from Allen.
When selecting a name, the Sparkses said they liked the name Mason and then realized it was Derek's paternal grandmother's maiden name. They picked Gabriel after the angel in the Bible.
As for being born on Jan. 2, Sondra said it was "cool" that Mason's birthdate is 1-2-12.
As winners of the First Baby of the New Year Contest, the family will receive gift certificates and other prizes from several local businesses. For more about those businesses, and a congratulatory message to the Sparks family, look for a display advertisement in next week's edition of The Mirror.
"We appreciate their support and are excited for the future we have with our new son," Derek said.