Yanez remains at City Hall with Bard's medical leave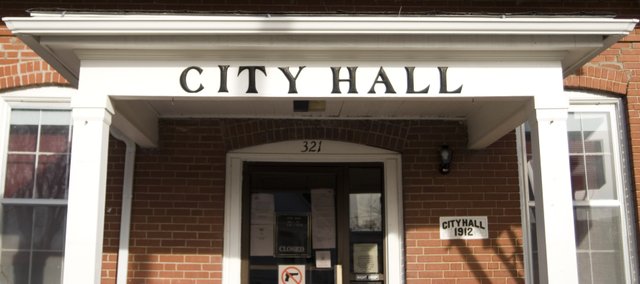 Although his contract expired Dec. 31, Mike Yanez was on the job Tuesday at Tonganoxie City Hall as city administrator.
And it appears he may stay in the position until spring.
Yanez met with the Tonganoxie City Council in the last of a series of executive sessions on non-elected personnel at Thursday's special meeting. Although no decision was made after that closed-door meeting, signs did point to Yanez staying on, at least temporarily.
After two earlier executive sessions, Assistant City Administrator Kathy Bard announced she would be taking a leave of absence.
"I've been diagnosed with an illness," Bard said at the council meeting. "I will not be able to continue with my position here."
Bard was to act as interim city administrator during the search for a new administrator but with her illness it appeared as if the council would turn to Yanez to stay on as interim administrator.
Mayor Jason Ward said he couldn't comment on that possibility. He said the matter would be resolved at a special meeting set for 6 p.m. today, during which the city administrator search would be discussed. Yanez will be at the meeting, Ward said.
The council also promoted Mary Conway to city clerk from her positions as municipal court clerk and deputy city clerk. Bard had also held the city clerk position with the city.
In August, the council voted not to extend Yanez's contract past its Dec. 31 expiration. Earlier this month, the council approved an $11,000 agreement with Art Davis Group Inc. of Lee's Summit to lead the city administrator search.
On Thursday, the council voted to cap Davis' expenses at $4,000 and agreed Davis would be at Wednesday's meeting to reach consensus on what council members wanted in the next city administrator.
The proposal Davis submitted to the city last month included a schedule that would have the new city administrator on the job April 1. Council members said Monday that Davis had started working on the search.
In other business, the council:
• Learned that Jim Pickett, regional engineer for the Kansas Department of Transportation and other KDOT officials, would meet with the council at its Jan. 23 meeting to discuss the city's request that KDOT lower the speed limit on U.S. Highway 24-40 on the east side of the city.
• Ward announced $338 was raised at B&J Country Mart from the Mayor's Christmas Tree Project.