Chance to meet president nothing new for Tonganoxie superintendent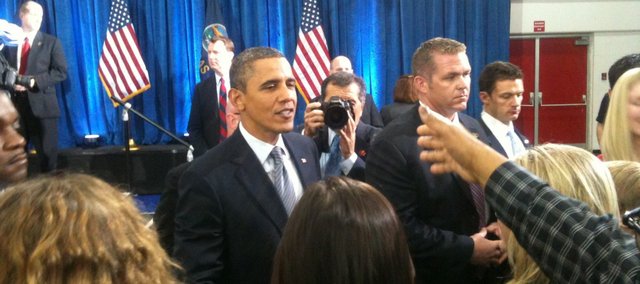 Randy Weseman had the opportunity to meet or shake hands with many legislators and other political figures during his time as superintendent of Lawrence Public Schools.
As USD 464 superintendent, he has added one more dignitary to that list: President Barack Obama.
Weseman, as well as his wife, Marcia, who is principal at Leawood Middle School, and a son who attends Kansas University, made the trip this past month to see Obama speak at Osawatomie High School.
One of Weseman's daughters is friends with a KU graduate who now is a member of Obama's advance team. She asked if Weseman had interest in attending.
Seated in the second row, about 15 feet from President Obama, Weseman and his family looked on as the President delivered his speech.
"We had to be there 2 1/2 hours before it started," Weseman said. "We were some of the first people in there. It was nice because we didn't have to wait in line. It was cold outside."
After the speech, Obama greeted Weseman and others in the crowd.
"He was very friendly and stopped and chatted with people and so on," Weseman said.
The superintendent was situated near national media members for the speech. Weseman spotted "60 Minutes" correspondent Steve Kroft and chatted him up. Kroft told Weseman they would be doing interviews in Osawatomie and Washington, D.C., footage that appeared on the following Sunday's "60 Minutes" episode.
Obama's speech focused on jobs and the middle class and took place in the same community where President Theodore Roosevelt spoke in 1910.
"I kind of anticipated that it was going to be connected to what Teddy Roosevelt said in his speech … I was a history teacher. I was familiar with that. I'm an avid consumer of history and particularly in the World War II era. It's my strongest interest.
"It probably was considered a Populist speech," Weseman said. "And it was trying to connect to Middle America."
Having the opportunity to see the President speak was a great one, but Weseman said he appreciated taking in all aspects of the day.
"The idea of the speech and the president speaking was cool," Weseman said. "But the pageantry and organization of it was really great theater."
Weseman said it was tough getting photos of President Obama as he greeted people, but was able to get some photos.
"You don't tell the President of the United States to stop," Weseman said with a laugh. "He was very friendly and stopped and chatted with people and so on."
Though Weseman was trying to snap many photos that day, a White House photographer actually captured a shot of him and his wife in the crowd during the speech. The photo can be seen on the White House website, at whitehouse.gov/blog/2011/12/06/president-obama-america-we-are-greater-together.
Weseman also had the chance to meet President Bill Clinton when he spoke in Allen Fieldhouse for the inaugural Dole Lecture. He also met several dignitaries during dedication ceremonies at the Robert J. Dole Institute of Politics on the Kansas University campus. Some national names there included John McCain, Condoleezza Rice and Tom Brokaw, who narrated the event. Several World War II Medal of Honor winners attended, too, as did Winston Churchill's grandson. President Jimmy Carter was there as well, but Weseman didn't get the opportunity to shake hands with the former president.
"I especially enjoyed meeting the veterans," said Weseman, who served in the U.S. Air Force.
In inviting Clinton as the first person to speak as part of his lecture series, Dole welcomed the man who defeated him in the 1996 presidential election. Weseman said "that says a lot about the man."
"To invite the guy who defeated him for the presidency speaks volumes for his character," Weseman said.
The Tonganoxie superintendent said Dole is one of his favorites.
"He's a hometown hero for me," Weseman said about Dole, who is from Russell. "Kansas kid. World War II veteran. Wounded. I think one of the last statesmen. "He knew how to make things happen and get things done. He worked with people on both sides of the aisle."
Weseman said that was key in politics and beyond.
"I work with people who are Republicans and Democrats and people in between," he said. "I believe you take ideas and build solutions through compromises. That influences my personal and professional life.
"It doesn't work in marriage and doesn't work in politics. If you show me a marriage that's one-sided, I'll show you a short marriage."