Chieftains survive late rally, defeat Turner at home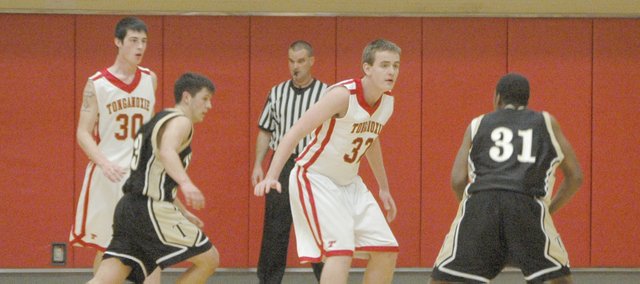 Photo Gallery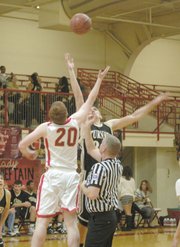 Tonganoxie basketball vs. Turner
The Tonganoxie High girls and boys basketball teams both snapped two-game losing streaks against Turner on Tuesday. The Chieftain girls cruised to a 69-40 victory, while the boys held on for a 64-57 win.
Before Tonganoxie's Tuesday night meeting with Turner ever began, Shawn Phillips knew the Chieftains were in for a dogfight.
So, when Phillips and company watched a 13-point, fourth-quarter lead shrink all the way to one in less than five minutes, the head coach didn't allow the Chieftains to panic. Instead, they regained their composure and held on for 64-57 victory.
"Our league is so strong this year," Phillips said. "You can't assume anything on any night. We knew it was going to be tough. Turner is well-coached and they've got guys that play hard."
Tonganoxie (4-3) took a 49-36 lead into the fourth quarter, but the Golden Bears refused to go down without a fight. They reeled off seven straight points in the first two minutes of the period and stayed within striking distance. Senior Dane Erickson sunk a layup to stop the bleeding with 5:45 remaining, but Turner wasn't done.
The Golden Bears continued to chip away at the Chieftains' advantage and got within one, 53-52, on a Jayon Washington 3-pointer with 3:18 left on the clock.
"We knew we had to take care of the basketball because turnovers had cost us," Phillips said. "We went through a stretch where we didn't finish real well, even when we had close-up shots, and we gave up some offense rebounds."
Phillips' squad finished when it mattered most, though, as it responded with a 6-0 scoring burst to regain control. Erickson scored four straight to give the Chieftains a two-possession lead, then junior John Lean found fellow junior Josh Ghale wide open under the basket for an easy layup.
Erickson led all scorers with 27 points — including a 13-of-16 effort from the free throw line — and hauled in 10 rebounds for a double-double. Ghale and Lean joined him in double-digit scoring with 13 and 11 points, respectively.
The game turned into a slugfest from the opening tip, as neither squad could establish a clear advantage in the first quarter. The period ended in a 14-14 stalemate. Tonganoxie opened the second quarter on an 11-2 run to gain some separation, but Turner found its footing and closed the gap to 34-27 at the break.
With the win, the Chieftains snap a two-game losing streak. They'll try to keep the ball rolling when they play host to Lansing on Thursday.
"We'll try to go a little bit easier on their legs tomorrow (in practice) because we've got a really good team coming in in Lansing on Thursday," Phillips said. "I know they'd rather play than practice anyway, so I'm sure they'll be excited about one day of practice between games."
Score by quarters
Turner 14 13 9 21 — 57
Tonganoxie 14 20 15 15 — 64
Individual scoring
Turner — Eric Dougherty 6-12 4-8 19, De'Andre Walters 7-16 0-4 14, Will McKnight 3-12 2-4 8, Jayon Washington 3-4 0-0 7, Paul Berry 2-2 0-1 4, Nick Rodriguez 1-8 1-2 3, De'Andre Fenrick 0-2 2-2 2, Sammie Ford 0-1 0-0 0.
Tonganoxie — Dane Erickson 7-11 13-16 27, Josh Ghale 6-6 1-3 13, John Lean 5-14 0-0 11, Colby Yates 1-2 2-2 4, Tyler Ford 1-4 0-0 3, Dylan Jacobs 1-5 0-0 2, Eric McPherson 1-1 0-0 2, Brennan Williams 0-2 2-2 2.