Counselor's golden retrievers help keep things calm at
TES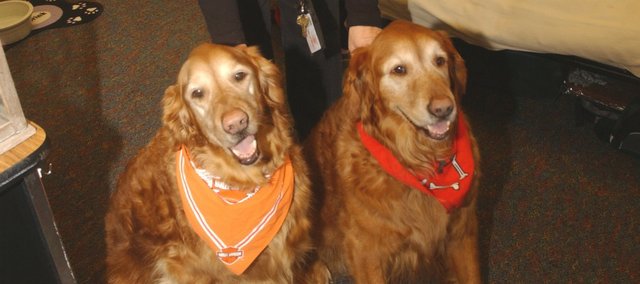 Joseph Wenger remembers his biggest surprise his first day as a transfer kindergarten student to Tonganoxie Elementary School.
"I was coming from the office when I saw the dogs," the second-grader said. "I was so surprised. So was my mom. She wasn't used to seeing dogs in school."
The dogs were school counselor Connie Weltha's therapy dogs, Bo and Chip. And while the two golden retrievers can often be found lounging under Weltha's desk, in the doorway to her office or a nearby hallway or on pads placed around the office, those relaxed moments betray everyday schedules filled with group activities and one- or two-on-one time with students.
Wenger and fellow second-graders Kelsey Mosiman, Mikayla Rhoads and Andrew Willson said they see Bo and Chip in their classrooms for students' birthdays, upon the arrival of transfer students and during Weltha's weekly character lessons.
The attentive, gentle dogs also provide more intimate counseling and tutoring of a sort, Weltha said.
"We have kids with reading problems who come read to Bo and Chip," she said. "They don't care if they make mistakes. They don't make fun of them or make funny faces if they mess up on a word. They don't judge them in any way.
"Bo and Chip really have a calming effect on kids with behavioral issues. Often an upset student who won't leave the classroom will leave with one of the dogs."
Playtime with the dogs is also given as a positive reward to students for good behavior, Weltha said.
Perhaps because of the district's experience with a therapy dog in the middle school, TES Principal Tammie George was open to the dogs and their role at the school during her job interview and has remained so in the four school years since, Weltha said. That hasn't always been the case, and she said administrators at one school at which she interviewed would not have allowed the dogs because of concern for children with asthma.
That is an issue, Weltha said. To address it, she bathes the dogs often, doesn't allow children with asthma to touch them and makes sure those students and the dogs are well separated during classroom visits.
Other legitimate concerns are youths striking Bo and Chip (there are two incidents of them being hit and kicked) or the dogs attacking students, Weltha said. To prevent such incidents, Weltha is always with the dogs.
"My philosophy is I can control Bo and Chip 100 percent of the time, but I don't always know how kids will react," she said. "I'm always with Bo and Chip.
"Different counselors do different things. I have a friend with therapy dogs who leaves them alone in classrooms."
Also disarming any fear of aggression is the dogs' breed. Golden retrievers are known for their affectionate nature and are the No. 2-rated breed behind Labrador retrievers as therapy dogs, Weltha said.
She was introduced to therapy dogs during a practicum experience at a Basehor-Linwood school under counselor Marilyn McGowan, whose Labrador, Hunter, was one of the state's first school therapy dogs.
With that experience and further research, she started looking for a Labrador or golden retriever as she started her career as a school counselor. Eventually, she and her son Casey bought Bo and Chip from a farm near Lawrence. She ended up with both dogs after Casey's landlord wouldn't let him keep the puppy in his apartment.
After recommended temperament testing, the dogs' natural gentleness and eagerness to please were enhanced through training at Canine Assistance Rehabilitation Education and Services in Concordia, Weltha said. That was followed by nine months of work with the dogs to get them registered as therapy dogs with the American Kennel Club, she said.
The 10-year-old dogs bring experience to the job as well as education. They worked with Weltha for four years in the Basehor-Linwood school district and three at an El Dorado school, and they are now in their fourth year at TES.
At their age, Bo and Chip probably have one more year as therapy dogs before they enter retirement, Weltha said. The will leave a record of accomplishment, she said.
"They do lend themselves to making this a little friendlier place," Weltha said. "Mrs. George feels discipline referrals are down. I don't know, but I like to think Bo and Chip are part of that."