Tonganoxie
USD

464 Board hears case for new buses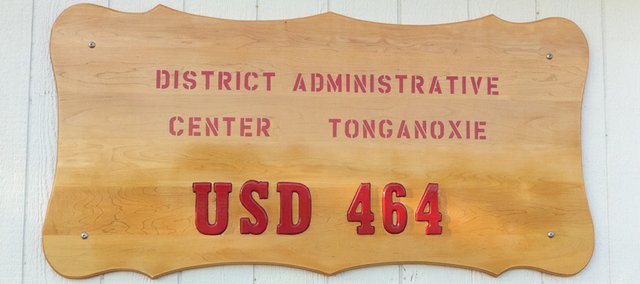 USD 464 transportation director Melissa Ostermeyer told the Tonganoxie school board about the department's many accomplishments in 2011 during Monday's board meeting.
And then she wanted to discuss a "wish list."
"Now the real reason I'm here," Ostermeyer joked. "To grovel."
Ostermeyer said she would like to see the district replace five older buses in its main fleet.
She noted there is one bus in the fleet manufactured in 1996 with 130,000 miles and four buses manufactured in 1998. Their mileage ranges from 73,000 to 109,000. In addition, 11 buses were manufactured between 2001 and 2005, with mileage ranging between 73,000 and 109,000.
Ostermeyer said she would like to see new buses equipped with rear video/security camera systems and a GPS navigation system.
The GPS would assist drivers traveling to a school or destination they've never been to. Ostermeyer said it also would save time in recording mileage and time on the road. It would replace mileage and time sheets.
Before the meeting, Ostermeyer had a 14-passenger bus on display outside the Tonganoxie High School west campus as an example of one that could replace two minivans that might be needed for an activity trip. The minivans are six-passenger.
For instance, two vans were used for FFA students in their trip in the fall to the National FFA Convention in Indianapolis, where the vans encountered maintenance issues.
She also stressed that the district shouldn't rule out using two vans for trips, but she said the bus allows for better supervision while traveling, as the coach or sponsor isn't the one driving.
The buses taken out of the main fleet would be put in the district's spare fleet. Spare buses are used when a regular bus is out of service for maintenance or other emergencies.
More discussion will take place at future meetings regarding any new bus purchases.
During the presentation, Ostermeyer told of some activities and accomplishments in 2011:
• The transportation department worked with Tonganoxie High School Family, Consumer and Career Leaders of America members on an environmental ambassadors project in which students researched green buses, which run on propane, and rode along on bus trips. The two students won gold at nationals, Ostermeyer said.
• Longtime bus driver Myrle Leavitt, who has been driving for 42 years, was named the Kansas State Pupil Transportation Association driver of the year in June.
• Transportation employees conducted a bus safety exhibit at the Leavenworth County Fair in August.
• The department sponsored a stuff-the-bus event during enrollment in the summer. Patrons donated school supplies that provided backpacks and supplies for 30 students in need in the district. Donations helped the students "and then some" with the amount of supplies.
• During the last few months, the transportation department participated in the safe trick-or-treat event in Tonganoxie Elementary School as part of the Spooktacular event in downtown Tonganoxie. And this past month, the department created a wreath to be auctioned off as part of Breakfast with Santa, which benefited the THS After-Prom Party.
"I really feel like we have the best right here," Ostermeyer said.
In other business, the board:
• Heard from Superintendent Randy Weseman about Gov. Sam Brownback's proposed formula for state aid to school districts. The plan, if used, wouldn't begin until the 2013-14 school year. The formula shows that some districts would receive an increase in state aid, but USD 464 is a district that would not see any change, Weseman said.
• Accepted the resignation of Phyllis Wright, lead custodian at the high school, and approved hires of Brad Shelton and Ryan Scott as THS assistant baseball coaches. Wright retired from her position.
• Met for 10 minutes in executive session to discuss non-elected personnel. Weseman joined the board for the session.
• Approved first readings of board policy code revisions for groups H and I.