Tonganoxie girls cruise past Turner for first win of 2012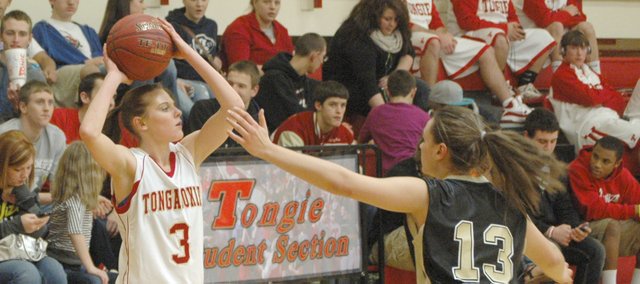 Photo Gallery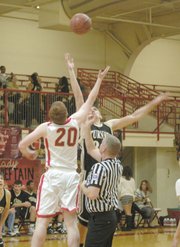 Tonganoxie basketball vs. Turner
The Tonganoxie High girls and boys basketball teams both snapped two-game losing streaks against Turner on Tuesday. The Chieftain girls cruised to a 69-40 victory, while the boys held on for a 64-57 win.
After committing 16 turnovers in the first half of Friday's loss at Mill Valley, the Tonganoxie girls knew where improvement was needed. Against Turner on Tuesday night, the Chieftains took a step in the right direction.
They only had seven first-half giveaways and 13 total in a 69-40 rout of the Golden Bears.
"It was great to get back in the win column," coach Randy Kraft said.
Senior Haley Smith, one of four Chieftains to reach double figures, provided an early spark on the offensive side of the floor. She connected on her first three shot attempts to give the Chieftains (4-3) a 14-10 advantage at the end of the first quarter.
Smith finished with a season-high 14 points on 6-of-7 shooting.
"It was huge early because we moved the ball well early," Kraft said. "Haley got open and knocked down some shots out there."
Kraft's group took complete control in the second quarter, in which it outscored Turner by a 21-6 margin. The Chieftains forced nine turnovers and pulled down 24 first-half rebounds — compared to just 10 by the Golden Bears — en route to a 35-16 halftime lead.
Things didn't get any closer after intermission, as Tonganoxie watched its lead grow to 25 at the end of the third quarter. The Chieftain post players dominated the second half, as senior Tavia Brown, sophomore Emma Stilgenbauer and sophomore Katelyn Waldeier all got several open looks under the basket.
Brown led the Chieftains with 17 points, while Stilgenbauer and Waldeier each added 10. Brown and Stilgenbauer tied for the team lead with eight rebounds apiece.
"The last few games, we haven't gone inside enough," Kraft said. "Our posts need to be more active and we need to attack the inside. Our posts haven't been a big enough threat because we haven't looked to them and got them the ball."
Turner's Alexis Luckey led all scorers with 18 points.
The win was the Chieftains' first of 2012 and snapped a two-game losing streak. They'll try to pick up more steam when they take on Lansing in Thursday's home game. Tipoff is set for 6 p.m.
Score by quarters
Turner 10 6 9 15 — 40
Tonganoxie 14 21 15 19 — 69
Individual scoring
Turner — Alexis Luckey 7-16 4-4 18, Elizabeth Pointer 4-8 3-6 11, Olivia Silvey 1-7 2-4 4, Maggie Berry 0-1 2-2 2, Skila Boyles 0-0 2-2 2, Peyton Peaches 1-3 0-0 2, Laura Wiseman 0-5 1-2 1, Clarisa Padilla 0-3 0-2 0, Brooke Beery 0-1 0-0 0.
Tonganoxie — Tavia Brown 7-10 2-6 16, Haley Smith 6-7 0-0 14, Emma Stilgenbauer 5-7 0-1 10, Katelyn Waldeier 4-8 2-5 10, Hannah Kemp 3-5 0-0 7, Jenny Whitledge 2-6 2-6 6, Amanda Holroyd 1-7 0-1 3, Madee Walker 1-3 0-0 2, Emily Soetaert 0-0 1-2 1.