Brackets released for Tonganoxie Invitational
Tournament play will open Monday at 3 p.m.
Photo Gallery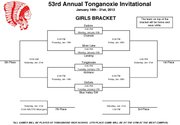 Tonganoxie Invitational brackets
Brackets have been released for the 53rd Annual Tonganoxie Invitational, which begins on Monday.
The eight-team boys field includes tournament host Tonganoxie, Blue Valley Southwest, Lansing, Atchison, Holton, Eudora, DeSoto and Silver Lake. The girls fiend includes Tonganoxie, Eudora, Chanute, Silver Lake, Lansing, Atchison, DeSoto and Blue Valley Southwest.
Tournament play will open when the Eudora girls take on Chanute at 3 p.m. on Monday. The Chieftain girls' first game will be against Atchison at 6 p.m. on Tuesday. The Tonganoxie boys will play Blue Valley Southwest immediately following the conclusion of the girls game.
There will be games every day from Monday to Saturday, excluding Wednesday. The girls championship game will be at 5 p.m. on Saturday, followed by the boys championship game.