Chieftain boys can't overcome early deficit vs. Lions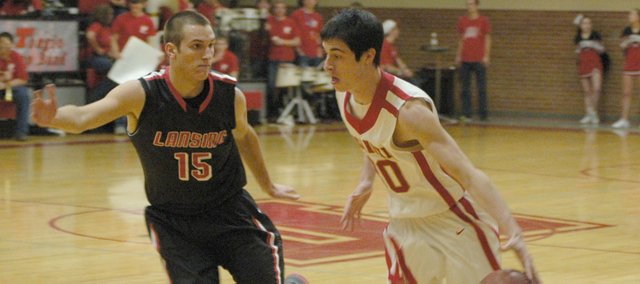 Photo Gallery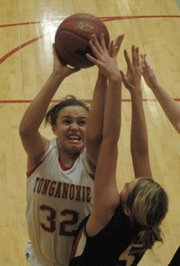 Tonganoxie basketball vs. Lansing
The Tonganoxie girls and boys basketball teams got one final tune-up for their home tournament when they hosted Lansing on Thursday. The Chieftain girls earned a 51-40 victory, but the boys suffered a 52-43 loss.
When the Tonganoxie boys have been able to run their offense this season, they've been able to run with any team they've faced.
Unfortunately, Thursday wasn't one of those nights.
Forwards Dane Erickson and Eric McPherson combined for 23 points, but the Chieftains (4-4) couldn't overcome an early deficit and dropped a 52-43 decision to Lansing on Thursday.
"They're exceptionally athletic and they had the ability to get out and really pressure us on the perimeter," coach Shawn Phillips said of Class 5A's top-ranked team. "They were forcing us to run offense 10-15 feet deeper than what we'd like to."
Tonganoxie hung tough at the beginning of the game, battling the Lions to a 12-12 stalemate at the end of the first quarter.
McPherson, a sophomore reserve, provided a spark off the bench. He accounted for half of the Chieftains' first-quarter points. He finished the game with a season-high 12 points, including perfect 4-of-4 marks from the field and free throw line.
"Eric McPherson had his best game of the season," Phillips said. "He was active, he was strong going to the rim. We've been preaching that to him since the beginning of the year and it's finally starting to show."
Lansing's speed started to play a factor in the second quarter, as it opened the period on an 8-2 run. Tonganoxie hit some shots to stay within arm's length, but the Lions took a 22-16 advantage into the break.
The Chieftains cut the lead in half when senior Dylan Jacobs opened the third quarter with a 3-pointer, but Lansing responded with six straight to stretch its lead to nine. Tonganoxie answered with an 8-2 run of its own — capped off by five straight points by junior John Lean — to get within three, 30-27. However, the Lions regained their composure and ended the third quarter with seven unanswered points.
Foul trouble doomed the Chieftains down the stretch, as McPherson and Erickson each picked up their fourth in the final period.
"I think that speaks to their athleticism and their ability to get in the pain," Phillips said. "Our bigs had to help and that gets them into foul trouble, but we played through it."
Erickson, a senior, finished one rebound shy of a double-double, scoring 11 points and grabbed nine points. Khalil Bailey and Cameron Decker led the Lions with 11 and 10 points, respectively.
Phillips and company will try to get back in the win column when they face Blue Valley Southwest in the opening round of the Tonganoxie Invitational. Tipoff is slated for 7:30 p.m. on Tuesday. Check The Mirror's website for a complete tournament bracket.
Score by quarter
Lansing 12 10 15 15 — 52
Tonganoxie 12 4 14 13 — 43
Individual scoring
LANSING — Khalil Bailey 3-7 5-6 11, Cameron Decker 3-9 4-6 10, Izaiah Grice 4-9 0-0 9, Clay Young 2-6 3-8 8, Lucas Mein 0-6 6-8 6, Chris Jones 2-6 0-3 4, Mike Miller 1-2 2-2 4, Devarion Sieg 0-0 0-2 0, Eddie Hunt 0-1 0-2 0.
TONGANOXIE — Eric McPherson 4-4 4-4 12, Dane Erickson 3-7 5-5 11, John Lean 3-10 1-2 8, Dylan Jacobs 1-5 0-0 3, Tyler Ford 1-4 0-1 3, Josh Ghale 1-2 0-0 2, Brennan Williams 1-4 0-0 2, Colby Yates 1-5 0-0 2, Ben Williams 0-0 0-1 0.