Tonganoxie girls down Lansing for second straight win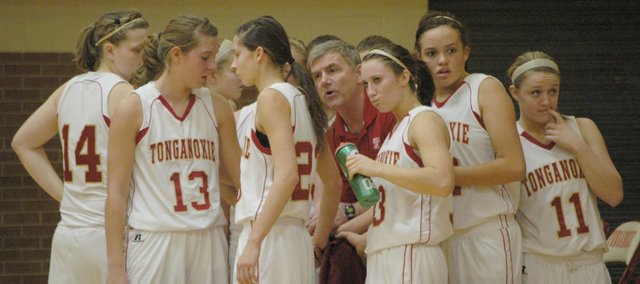 Photo Gallery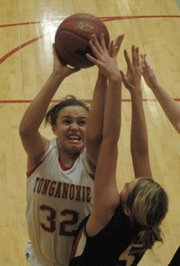 Tonganoxie basketball vs. Lansing
The Tonganoxie girls and boys basketball teams got one final tune-up for their home tournament when they hosted Lansing on Thursday. The Chieftain girls earned a 51-40 victory, but the boys suffered a 52-43 loss.
Through Tonganoxie's first seven games, forwards Tavia Brown and Emma Stilgenbauer were a pivotal part of the team's success.
The duo struggled mightily against Lansing on Thursday, but the Chieftains found plenty of production from their guards in a 51-40 victory.
Brown and Stilgenbauer were double-teamed most of the night, leading to a combined 1-of-15 mark from the floor. But, juniors Jenny Whitledge and Hannah Kemp were there to pick up the slack. Whitledge led all scorers with 17 points and grabbed 16 rebounds for a double-double, while Kemp added 12 points on 3-of-4 shooting.
"That's huge," coach Randy Kraft said. "I kept telling them 'we've got to get our post involved and we've got to make some stuff happen.' Our guards were shooting the ball well, but we were having some trouble getting them open. If something happened in the post where they had to double and help, then we'd get our guards open."
A seesaw battle unfolded in the early going, as Tonganoxie (5-3) clung to a 15-13 advantage at the end of the first quarter. The Chieftains used an 8-2 run to gain some separation in the second quarter and took a 28-19 lead into the locker room.
Tonganoxie erased any thoughts of a comeback when it opened the third quarter on a 9-2 scoring burst. That put the Kraft's group up 25-15 midway through the period and ultimately put the game out of reach for Lansing.
The Chieftains allowed just six points in the quarter and entered the fourth with a 16-point cushion.
"Basically we said just be solid offensively," Kraft said. "We were trying to do too much, trying to do things that weren't there at times. Defensively, I thought we did a lot better job on their high-low game. That was pretty big for us."
The Lions ended the game on a 10-0 run, but the game's final outcome was never in question.
Since dropping its first two games of 2012, Tonganoxie has answered with a pair of home wins. It will look to extend that streak to three when it takes on Atchison in the first round of the Tonganoxie Invitational.
"We had a rough week last week, so it's good this week to get us a couple wins and go into the tournament on a positive note," Kraft said.
Tipoff is set for 6 p.m. on Tuesday. Check The Mirror's website for a complete tournament bracket.
Score by quarter
Lansing 13 6 6 15 — 40
Tonganoxie 15 13 13 10 — 51
Individual scoring
LANSING — Gabby Hacker 4-11 1-2 10, Emma Zeck 2-6 2-6 6, Morgan Bromell 2-6 1-3 5, Maggie Hornick 2-6 0-2 4, Micheala Taylor 1-3 0-0 3, Danielle Pendergraft 1-3 0-0 3, Shelby Ogden 1-11 0-0 3, Emily Babcock 1-2 0-0 2, Morgan Johnson 0-0 0-1 0.
TONGANOXIE — Jenny Whitledge 8-10 1-4 17, Hannah Kemp 5-7 0-1 12, Emily Soetaert 3-4 0-0 7, Tavia Brown 1-9 5-6 7, Amanda Holroyd 2-5 0-0 6, Haley Smith 1-3 0-0 2, Katelyn Waldeier 1-3 0-0 2, Madee Walker 0-2 2-2 2, Kara Banks 0-1 0-2 0, Emma Stilgenbauer 0-6 0-0 0.