First plans of Tonganoxie's Chieftain Trail extension revealed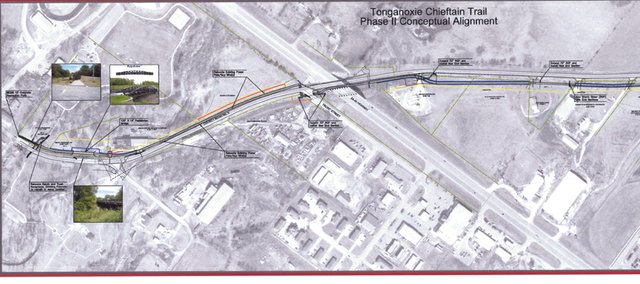 A $1.08 million extension of Chieftain Trail to north of U.S. Highway 24-40 could be completed early this fall, according to a schedule the city's contract engineer presented Monday to the Tonganoxie City Council.
Engineer Brian Kingsley of BG Consultants presented the council with conceptual plans of the extension of the 10-foot-wide sidewalk from First Street along Tonganoxie Drive to Laming Road east to the Post Office. A small and large set of the conceptual plans and a large map of the improvements are available for viewing in the council chamber.
Kingsley said a Sept. 25 completion date was possible if finial design planning and easement acquisition negotiations with eight to 10 property owners went well. Should the council give its go ahead at its Jan. 23 meeting, letters to property owners would be posted Feb. 17, Kingsley's schedule shows.
Should negotiations fail, condemnation notifications would be sent out March 23, Kingsley said.
He advocated the city use the "friendly condemnation process" used in 2010's Fourth Street project in which negotiations followed pre-established procedures after appraisals were completed on their properties.
The Kansas Department of Transportation grant is to pay for 80 percent of the project's construction cost with the city responsible for the remaining 20 percent, in addition to easement acquisition, engineering and utility relocation.
Kingsley said the now estimated construction cost of $1.08 million was about $31,000 less than estimated when the council approved accepting the KDOT grant for its construction last year. It's now estimated construction will cost the city $191,219. There could also be savings from a 10 percent construction contingency and 15 percent engineering contingency.
Among the features of the trail in the conceptual plans is a bridge over Tonganoxie Creek just past the northeast portion of the old creamery property.