McLouth boys survive shootout with Mustangs
Photo Gallery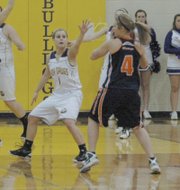 McLouth basketball vs. Doniphan West
The McLouth basketball teams welcomed Doniphan West to town on Friday. The boys held on for a 71-67 win, but the girls suffered a 70-43 defeat.
McLouth — When the McLouth High boys played host to Doniphan West on Friday, there were several occasions where it looked like the Bulldogs would pull away for an easy victory.
However, with Mustang sharpshooter Marc Ellis on the floor, nothing was guaranteed.
Ellis scored a game-high 33 points and almost singlehandedly erased a nine-point deficit in the fourth quarter, but McLouth survived and escaped with a 71-67 victory.
"We want to win on our home court," McLouth coach Jason Schroeder said. "You want to win big, but a game like this prepares us for the rest of our season. It prepares us for tournament play, which is what all of this is about."
The Bulldogs (6-3) held a 62-53 advantage with 3:18 left in the fourth, but Ellis started to heat up from beyond the 3-point arc. His first of three in the period ignited a 10-3 run that got the Mustangs within two with 35 seconds remaining.
Three straight McLouth free throws — one by sophomore Drew Cerny and two by junior Marc Walbridge — gave the Bulldogs a five-point cushion with 14 ticks on the clock, but Ellis wasn't done. He promptly buried the last of his five treys to make it a one-possession game.
"(Ellis) was doing a great job and they were doing a great job of bringing him off screens," Schroeder said. "We kept rotating fresh bodies in on him, but they did a pretty good job. He made some great shots."
As it turns out, though, his efforts went for naught. Walbridge connect three more times from the line to preserve the win.
As a team, McLouth went 16-of-27 from the charity stripe, but half of those makes came in the game's final minutes.
"The free throws were huge," Schroeder said. "Dakota Cop made a bunch of them for us in the first half, then Gavin Swearngin and Marc Walbridge made them in the second half."
Swearngin, who was named the school's King of Courts at halftime, led the Bulldogs with 20 points. Walbridge added 17, while Cop and Carter Gish — both juniors — tallied 11 apiece.
McLouth started hot offensively, draining eight of its first nine shot attempts en route to an 18-10 lead. That lead was down to four at halftime, though, as Doniphan West used a 7-2, second-quarter run to make it 32-28 at the break.
The Bulldogs will return to action when they open tournament play at the McLouth Invitational, which starts Monday.
Score by quarters
DWHS 13 15 19 20 — 67
McLouth 18 14 20 19 — 71
Individual scoring
DWHS — Marc Ellis 11-21 6-7 33, Derek Gibson 5-7 1-1 11, Ben Petrik 3-7 0-2 6, Tristan Speer 2-6 0-0 6, Tyler Diveley 1-1 3-4 6, Luke Twombly 2-6 1-2 5, Jordan Sellers 0-1 0-0 0.
McLouth — Gavin Swearngin 7-13 6-11 20, Marc Walbridge 5-9 5-6 17, Dakota Cop 4-8 3-4 11, Carter Gish 5-7 0-1 11, Drew Cerny 2-3 1-2 5, Shawn Dailey 2-5 0-0 4, Nick McAferty 1-3 1-3 3, Calvin Booth 0-1 0-0 0, Jack Courtney 0-1 0-0 0.