MHS

girls routed by Doniphan West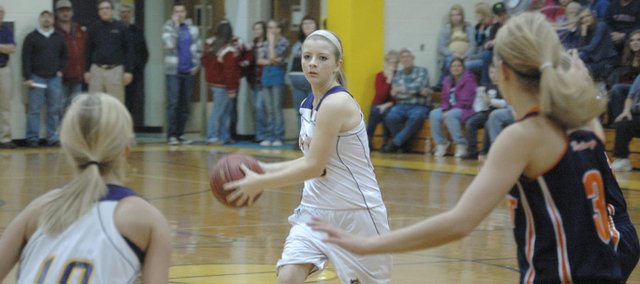 Photo Gallery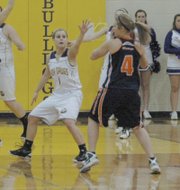 McLouth basketball vs. Doniphan West
The McLouth basketball teams welcomed Doniphan West to town on Friday. The boys held on for a 71-67 win, but the girls suffered a 70-43 defeat.
McLouth — Before the start of the spring semester, McLouth High girls coach Gina Durkes labeled some areas the Bulldogs needed to improve on. According to Durkes, those improvements are still a work in progress.
That was evident in her squad's 70-43 loss to Doniphan West on Friday.
"Our boxing out is still at minimum," Durkes said. "On defense, we're just lazy. We don't move our feet. We still have to work on it."
The Bulldogs (1-8) struggled from the opening tip and found themselves on the wrong side of a 15-2 score less than five minutes into the game. They found some offense late in the period, but did little to cut into the deficit. The Mustangs led 25-11 at the end of the first quarter, and the rout was on.
Doniphan West's Abbi Ellis wasted no time getting the Mustang offense going, as she racked up 13 points in the first quarter alone. She gave McLouth fits all night — both in the paint and beyond the arc — and finished with a game-high 25 points.
"She basically killed us," Durkes said of Ellis. "She was good from outside and she could play inside. It was pretty tough."
The teams traded baskets for the majority of the second quarter and Doniphan West took a 45-28 lead at the break.
McLouth briefly came to life when it opened the third quarter on a 5-1 run, which narrowed the gap to 46-33, but the Mustangs responded with a 9-0 burst of their own to extinguish any thoughts of a comeback.
"(At halftime), we basically just went over stuff that they needed to capitalize on," Durkes said. "That's what they came out and did at the beginning of the second half, but after that first five or six, it kind of died."
Things didn't get any better for Durkes' squad down the stretch. The Mustangs led by as many as 31 in the fourth quarter, which put a running clock into effect for the remainder of the game.
Three players reached double figures for McLouth. Sophomore Kayla Steffey led the way with 12 points, junior Kaitlyn Hullinger scored 11 and senior Terri Stewart added 10.
The Bulldogs will return to the hardwood when they travel to Maranatha on Wednesday.
Score by quarters
DWHS 25 20 13 12 — 70
McLouth 11 17 5 10 — 43
Individual scoring
DWHS — Abbi Ellis 9-15 2-2 25, Kassiday Blevins 6-14 1-2 13, Nikki Boos 5-7 2-4 12, Michelle Johnson 3-5 0-0 8, Payton Leach 3-5 1-2 7, Rachel Rush 1-1 2-2 4, Jessica Pickman 0-2 1-2 1, Meghan Larson 0-2 0-0 0, Regan Gibson 0-2 0-0 0, Scotti Twombly 0-3 0-0 0.
McLouth — Kayla Steffey 5-8 2-3 12, Kaitlyn Hullinger 5-11 1-1 11, Terri Stewart 5-11 0-0 10, Morgan Drinnon 2-8 2-2 8, Destiny Mestagh 1-1 0-0 2.