Work completed on Leavenworth County State Lake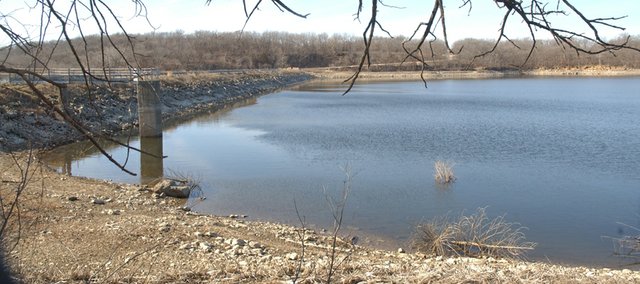 Although repair work on the dam is completed at Leavenworth County State Lake, the water level won't return to normal until late spring.
Kelly Rockers, public lands manager at the lake, said the lake, about 3 miles west of Tonganoxie, was slightly more than 8 foot below normal. The water level was lowered so that repairs completed with the mild weather could be made to the east side of the dam, he said.
"There was a small side on the east side," Rockers said of the dam built in the 1930s. "It really wasn't a structural problem but it could have developed into one. They dropped the water level to keep the pressure off while it was repaired."
Should the area get its average rainfall, the lakes level should return to normal late this spring, Rockers said.
Kansas Wildlife and Parks took advantage of the low-water level to do other maintenance at the lake, Rockers said.
"We put in about 70 brush piles," he said. "We had a pretty intensive cleanup in the back part of the lake in the fingers."
The boat ramp is to be repaired and perhaps get a larger skirt, Rockers said. He would like to do more cleanup near the dam before the lake level rises, Rockers said.
The lower level hasn't seemed t brother fishermen and he's seen fishermen with 20- to 25-jon boats on the lake, Rockers said.
The lake will be stocked with "a couple thousand" pounds of channel cat this spring, Rockers said.
"They may stock some bass, too," he said. "But the lake has a really good bass population, so it will mostly be catfish."