Chieftain wrestling takes 11th at Bobcat Classic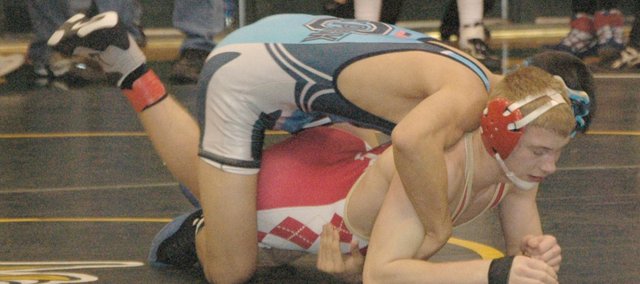 Photo Gallery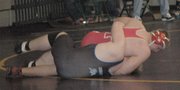 THS wrestling at Bobcat Classic
The Tonganoxie High wrestling took 11th place at the Basehor-Linwood Bobcat Classic on Friday and Saturday. The Chieftains finished second among Class 4A schools with a team score of 87.5.
Throughout the first half of the 2011-12 season, the Tonganoxie High wrestling team showed it was capable of succeeding in a tournament atmosphere. Over the weekend, the Chieftains put their skills to the test against one of the toughest fields the state has to offer.
Three wrestlers notched top-eight finishes in their respective weight classes and Tonganoxie recorded a score of 87.5 — good enough for 11th in the team standings — at the Basehor-Linwood Bobcat Classic on Friday and Saturday.
"That's a high-caliber tournament," coach Jeremy Goebel said. "It's a 32-man bracket, so it's a bigger tournament than state. I thought our kids wrestled extremely tough. They really kept the ball rolling and competed hard."
Tonganoxie was one of 15 Class 4A participants in the tournament field, which included schools from Kansas, Missouri, Colorado and Iowa. Of those 15, Goebel's squad finished second behind top-ranked Andale, which finished third with a score of 159.5.
Blue Springs (Mo.) high school earned 219.5 points to claim the team title.
Sophomore Clayton Himpel, the team's leader in several statistical categories, went 5-2 to take fifth in the 120-pound class. He defeated Clay Center's Ty Kolterman in the fifth place match, improving his season record to 24-4. Junior Joe Wolf (21-6) went 3-2 and took seventh in the 132-pound class, while sophomore Zeke Kissinger (19-9) claimed eighth in the 220-pound class with a 2-3 showing.
Four of the Chieftains' 14 wrestlers won at least three matches at the two-day tournament and nine went .500 or better.
"If we finished out on top, that puts us from being 11th to even a little higher," Goebel said. "On the other hand, finishing our matches helped us finish 11th instead of a little lower. It goes both ways."
Tonganoxie was scheduled to face Spring Hill in a dual on the Thursday before the tournament, but the meet was cancelled. The Chieftains won't be in action again until they travel to the Gerald Sadowski Invitational in Holton on Saturday.
In the meantime, Goebel said they'll be hard at work in the practice room.
"We've just got to come in and continue to work on things that are going to help us be successful, just like we have all year," he said. "We need to keep increasing our intensity in practice."
Saturday's action will begin at 9:30 a.m. The Chieftain junior varsity squad will also make a trip to Holton this week, as it will participate in a tournament on Friday.
Top 15 team results
Blue Springs (Mo.) — 219.5
Collinsville (Mo.) — 191
Andale — 159.5
Oak Park (Mo.) — 153
Mountain Range (Colo.) — 138.5
St. Thomas Aquinas — 119.5
Lansing — 105
Junction City — 95.5
Platte County (Mo.) — 94.5
Goddard — 90
11. Tonganoxie — 87.5
Bonner Springs — 87
Baldwin — 85
Fort Scott — 76.5
St. James Academy — 76.5
THS individual results
Tournament, Overall (Tournament finish)
106 pounds — Connor Yates, 0-2, 5-9 (N/A)
113 — Dalton Tavis, 2-2, 20-6 (N/A)
120 — Clayton Himpel, 5-2, 24-4 (Fifth)
126 — Caleb Himpel, 2-2, 13-6 (N/A)
132 — Joe Wolf, 3-2, 21-6 (Seventh)
138 — Asher Huseman, 2-2, 20-5 (N/A)
145 — Adam Thomas, 3-2, 15-4 (N/A)
152 — Matt Soetaert, 3-2, 19-9 (N/A)
160 — Luke Carey, 2-2, 10-12 (N/A)
170 — Ryan Lynch, 1-2, 13-10 (N/A)
182 — Julius Coats, 1-2, 15-10 (N/A)
195 — Thomas Miller, 1-2, 8-10 (N/A)
220 — Zeke Kissinger, 2-3, 19-9 (Eighth)
285 — Ty Barton, 2-2, 12-11 (N/A)