Chieftains outmatched by
BVSW

in first round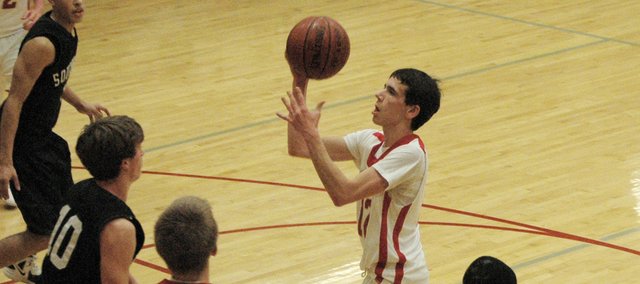 Photo Gallery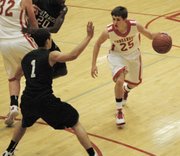 Tonganoxie boys vs. Blue Valley Southwest
The Tonganoxie boys got off to a rough start at their home tournament, dropping a 63-38 decision to Blue Valley Southwest on Tuesday.
For the majority of the 2011-12 season, senior Dane Erickson and junior John Lean have been Tonganoxie's top scoring threats. Tuesday was no exception, as the duo combined for 34 points against Blue Valley Southwest.
However, the rest of the Chieftains left something to be desired in a 63-38 loss in the opening round of the Tonganoxie Invitational.
Aside from Erickson and Lean, who scored 18 and 16 points, respectively, Tonganoxie (4-5) went a combined 2-of-21 from the floor and 0-for-8 from the free throw line.
"I don't know that they did anything to take anybody else away," coach Shawn Phillips said of the Timberwolves' defense. "They just focused on helping on Dane and we just didn't have anybody step up and score the basketball. We shot it poorly as a team."
Phillips' squad started the second half with some momentum after cutting a 14-point deficit to nine just before the break, but BVSW quickly erased any thoughts of a Chieftain comeback. Dominique O'Connor scored six of his team-high 17 points in a 10-2, third quarter run which gave the Timberwolves a 40-25 advantage.
Tonganoxie finally found some offense late in the period, but was unable to mount another serious threat.
"In the third quarter, we came out with no intensity whatsoever," Phillips said. "All of a sudden, when they shoot three or four from two feet and we don't get any shots, that seven-point lead becomes into the teens."
BVSW led by as many as 27 in the fourth quarter and had all its starters out by the end of the game.
Tonganoxie went punch for punch with the Timberwolves early on, battling to a 10-10 tie at the end of the first quarter. BVSW opened the second quarter on an 18-4 run, but the Chieftains answered with a 9-2 burst of their own to make it a single-digit game at the break.
After Wednesday's off day, Tonganoxie will face Atchison in a consolation game on Thursday. The Redmen were blown out in their tournament opener, dropping a 66-12 decision to Lansing.
"Atchison is a fairly young team," Phillips said. "They're not real big, so hopefully we can use some of our size in the paint and cause problems for them.
"The biggest thing is we've got to deal with us. If we come out with the effort we played with tonight, it's going to be a battle no matter who we play."
Tipoff is set for 7:30 p.m.
Score by quarters
BVSW 10 20 15 18 — 63
Tonganoxie 10 13 6 9 — 38
Individual scoring
BVSW — Dominique O'Connor 7-10 3-7 17, Anthony Miller 5-11 3-6 13, Donnell Bronson 6-9 0-1 12, Jack Raybuck 4-8 0-0 8, Colton Miller 2-11 2-2 8, Sam Randall 0-3 3-4 3, Nash Bostwick 1-1 0-0 2, Aaron Rogers 0-2 0-0 0.
TONGANOXIE — Dane Erickson 6-9 6-7 18, John Lean 6-13 3-5 16, Eric McPherson 1-1 0-5 2, Tyler Ford 1-6 0-3 2, Brady Waldeier 0-1 0-0 0, Ben Williams 0-1 0-0 0, Josh Ghale 0-2 0-0 0, Colby Yates 0-2 0-0 0, Dylan Jacobs 0-3 0-0 0, Brennan Williams 0-5 0-0 0.