McLouth Invitational begins today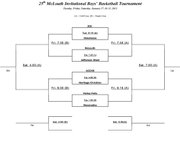 The 25th McLouth Invitational will officially begin today at McLouth High.
Aside from tournament host McLouth, the eight-team tournament field includes Jefferson County North, Oskaloosa, Jefferson County West, Atchison County, Heritage Christian, Valley Falls and Maranatha. ACCHS and Heritage Christian will open tournament play with tonight's 6 p.m. tipoff.
The Bulldogs' first game will be against Jeff West at 7:45 p.m. in the gold gym.
After tonight's first round, teams will resume action on Friday. The championship game is set for 7 p.m. on Saturday. There is no girls bracket, but the McLouth girls will be in action at Maranatha on Thursday.
Results and game times will be posted on The Mirror's website and Facebook page throughout the course of the tournament.