Tonganoxie girls blow by Atchison in tournament opener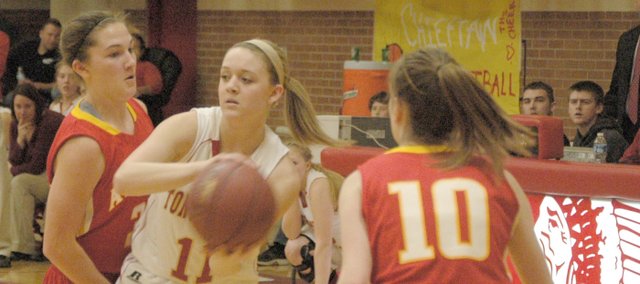 Photo Gallery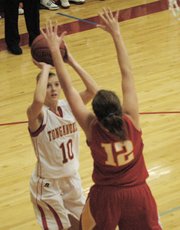 Tonganoxie girls vs. Atchison
The Tonganoxie girls opened their home tournament with a 72-36 win over Atchison on Tuesday.
Despite having won their last two games, the Tonganoxie girls had struggled mightily in the post in the last week.
Against Atchison on Tuesday, though, things finally got back to normal.
Forwards Tavia Brown and Emma Stilgenbauer went a combined 1-of-15 in the team's last outing, but bounced back in a big way. The duo accounted for 28 points in the Chieftains' 72-36 victory over the Lady Red.
Brown, a senior, led all scorers with 21 points and grabbed nine rebounds. Stilgenbauer, a sophomore, added seven points and three boards.
"We've emphasized getting the ball in a little bit more and getting it to (Brown and Stilgenbauer)," coach Randy Kraft said. "Those two have started working pretty well together. It opens everything else up if we can make them honor that inside game, so that's huge."
Tonganoxie (6-3) wasted little time establishing a lead, as it raced out to a 15-2 advantage less than four minutes into the game. That lead grew to 22-10 by the end of the first quarter, and the rout was on.
Brown and Stilgenbauer got several looks under the basket, while junior Jenny Whitledge, who finished with 13 points, slashed her way inside for three easy buckets in the opening period.
Other players did damage outside the paint, as senior Amanda Holroyd, junior Hannah Kemp and junior Madee Walker all buried 3-pointers in the quarter.
"We did a really good job of getting the ball inside early, then when they'd drop in on it, we were hitting some outside shots," Kraft said. "That really allowed us to jump out pretty big early."
Kraft's group kept its foot on the gas in the second quarter and took a 45-20 lead into the locker room at halftime. The Chieftains dominated the first half, outrebounding Atchison by a 23-8 margin and forcing 14 turnovers.
The Lady Red never threatened in the second half, as the deficit grew to as many as 40 points. A running clock was in effect for the duration of the fourth quarter.
The Chieftains, who have now won three straight, will face Blue Valley Southwest in a Friday semifinal at 3 p.m. The Timberwolves handed De Soto a 43-27 loss in the first round.
"You get over on the winner's side of the bracket, but now the games get tough," Kraft said. "(Blue Valley Southwest) is quick and athletic. They push the ball a lot. They play a little bit like we do. They pressure quite a bit. It should be pretty up-tempo."
Score by quarters
Atchison 10 10 10 6 — 36
Tonganoxie 22 23 23 4 — 72
Individual scoring
ATCHISON — Shelbie Vanderweide 7-11 3-4 17, Madison Sanders 4-11 0-2 8, Alyson Weber 2-6 0-1 4, Paige Wood 1-4 0-0 3, Rachael Sowers 1-4 0-0 2, Marianna Markou 1-3 0-1 2, Ashton Ettleman 0-1 0-0 0, Tiesha Bratton 0-1 0-0 0.
TONGANOXIE — Tavia Brown 10-14 1-2 21, Jenny Whitledge 5-8 3-4 13, Amanda Holroyd 3-5 0-0 9, Katelyn Waldeier 3-6 2-2 8, Emma Stilgenbauer 3-7 1-1 7, Haley Smith 2-6 2-2 6, Madee Walker 1-4 0-2 3, Hannah Kemp 1-4 0-0 3, Emily Soetaert 1-2 0-0 2, Kara Banks 0-2 0-0 0.