McLouth wins thriller in first round of
MIT
Photo Gallery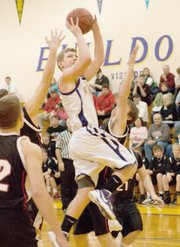 McLouth boys vs. Jeff West
The McLouth boys opened the McLouth Invitational in thrilling fashion, earning a 51-49 win over Jeff West on Tuesday.
The McLouth boys earned themselves a place in the winners bracket with a 51-49 victory over Jefferson County West in Tuesday's first round of the McLouth Invitational.
The Bulldogs (7-3) trailed 10-8 after the first quarter, but the Tigers weren't able to gain any more separation before halftime. Each team scored nine in the second quarter and Jeff West took a 19-17 lead into the locker room.
The Tigers extended their lead to 41-36 at the end of the third quarter, but McLouth wouldn't be denied. Coach Jason Schroeder's team outscored Jeff West 15-8 in the fourth quarter, including the game-winning shot by junior Marc Walbridge.
Senior Gavin Swearngin led the Bulldogs with 15 points, while Walbridge and senior Shawn Dailey each added 10.
The Bulldogs will now face Jefferson County North in a Friday semifinal. Tipoff is set for 7:45 p.m. in the gold gym. The Chargers, who handed McLouth a 64-34 loss on Dec. 6, reached the semifinals with a 66-35 win over Oskaloosa.
Score by quarters
Jeff West 10 9 22 8 — 49
McLouth 8 9 19 15 — 51
McLouth leading scorers
Gavin Swearngin 15, Shawn Dailey 10, Marc Walbridge 10, Carter Gish 6, Drew Cerny 5, Dakota Cop 2, Nick McAferty 2, Dylan McHenry 1.
Tuesday's other scores
JC North 66, Oskaloosa 35
ACCHS 69, Heritgage Chrstian 62
Maranatha 51, Valley Falls 47
Friday's matchups
Heritage Christian vs. Valley Falls, 6 p.m. (Purple gym)
ACCHS vs. Maranatha, 6:15 p.m. (Gold gym)
Oskaloosa vs. Jeff West, 7:30 p.m. (Purple gym)
McLouth vs. JC North, 7:45 p.m. (Gold gym)