Tonganoxie boys roll by Atchison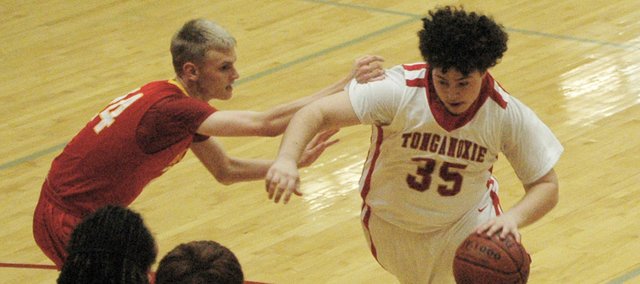 Photo Gallery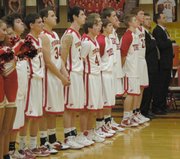 Tonganoxie boys vs. Atchison
Four Chieftains reached double figures as Tonganoxie rolled to a 75-41 win over Atchison in the second round of the Tonganoxie Invitational.
Following Tuesday's 63-38 loss to Blue Valley Southwest, Tonganoxie boys coach Shawn Phillips made one thing clear: the Chieftains desperately needed better balance in the scoring department.
Two days, later, Phillips' squad responded in a big way.
Senior Dane Erickson led four players in double figures as Tonganoxie rolled to a 75-41 win over Atchison in the second round of the Tonganoxie Invitational.
Erickson led all scorers with 24 points and grabbed 10 rebounds for a double-double. Sophomore Eric McPherson had 16 points, while junior John Lean and senior Colby Yates added 11 and 10, respectively.
"Generally, if you're going to be successful on any given night, you've got to have at least three guys put up some points," Phillips said. "The more that get in, it make the game more fun for everybody. It was good to see some shots go through the rim."
The Chieftains (5-5) grabbed control of the game early on, as they sprinted out to a 22-8 lead at the end of the opening period. They extended their advantage to as many as 17 in the second quarter, but the Redmen used a late surge to make it 40-28 at the break.
Any thoughts of an Atchison comeback were quickly erased when Tonganoxie opened the third quarter on an 8-2 run. That put the Chieftains in front by a 48-30 margin, and the Redmen never threatened again.
"We've struggled with starts to things quite a bit this year," Phillips said. "At the beginning of the year, it was the start of the game. Lately, it's been the start of the second half. That's something that we really stressed (Wednesday) in practice. For the most part, we did OK."
Tonganoxie continued to gradually pull away and took a 61-39 lead into the fourth quarter. A 3-pointer by senior Brennan Williams made it 73-41 midway through the final period, and a running clock went into effect for the remainder of the game.
With the win, which snaps a two-game losing streak, the Chieftains advance to the fifth-place game against Holton. The Wildcats dropped their tournament opener to Eudora, 55-45, but rebounded with a 51-44 win over Silver Lake on Thursday.
"Holton's got some physical, long, athletic guards," Phillips said. "We're going to have to be able to handle pressure. If we can take care of the basketball and get it inside, I think we'll be all right. We have a lot more size in the post than they do, but we've got to be able to get it there."
Tipoff is set for 11:30 a.m. Saturday in the main gym.
Score by quarters
Atchison 8 20 11 2 — 41
Tonganoxie 22 18 21 14 — 75
Individual scoring
ATCHISON — Tanner Huntington 8-18 3-5 20, Blake Dykstra 3-9 2-2 8, Clifford Johnson 2-5 0-0 5, Ivan Cushinberry 0-4 4-4 4, Clayton Bratton 1-3 0-0 2, Bennie Smith 1-5 0-2 2, Chris Fox 0-2 0-0 0, Michael Vaughn 0-3 0-0 0.
TONGANOXIE — Dane Erickson 10-16 4-6 24, Eric McPherson 7-9 2-2 16, John Lean 3-7 5-6 11, Colby Yates 3-3 1-2 10, Tyler Ford 1-4 1-2 3, Brennan Williams 1-3 0-0 3, Ben Williams 1-2 0-0 2, Dylan Jacobs 1-3 0-0 2, Josh Ghale 0-3 2-4 2, Eric Tate 1-1 0-0 2, Brady Waldeier 0-1 0-0 0.
Thursday's other scores
Chanute 48, Lansing 38 (Girls)
Holton 51, Silver Lake 44 (Boys)
De Soto 61, Atchison 33 (Girls)
Friday's matchups
Eudora vs. Silver Lake (Girls), 3 p.m.

Eudora vs. De Soto (Boys), 4:30 p.m.

Tonganoxie vs. Blue Valley Southwest (Girls), 6 p.m.

Blue Valley Southwest vs. Lansing (Boys), 7:30 p.m.