Chieftain girls drop
BVSW

, reach championship game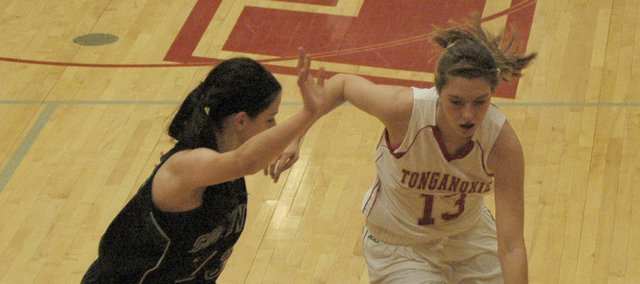 Photo Gallery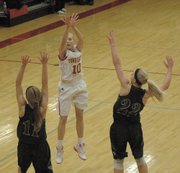 Tonganoxie girls vs. Blue Valley Southwest
The Chieftain girls reached the Tonganoxie Invitational championship game with Friday's 54-41 win over Blue Valley Southwest.
It's been a long time coming, but the Tonganoxie girls are finally back in the Tonganoxie Invitational championship game.
After battling Blue Valley Southwest to a 30-30 stalemate after three quarters, the Chieftains reeled off 24 points in the fourth quarter to earn a 54-41 win in Friday's semifinal.
"It feels great to get the finals," coach Randy Kraft said. "We haven't been there in a couple years. It seems like we were a regular there for a while, and once again, we're back there."
Tonganoxie (8-3) seemingly took control when it opened the fourth quarter on a 10-1 run, but the Timberwolves had no intention of going away quietly. They answered with a 9-4 burst to make it 44-40 with less than three minutes remaining.
Despite watching a nine-point advantage shrink to four, the Chieftains regained their composure to claim their fourth straight victory. A three-point play by sophomore Emma Stilgenbauer ignited a 10-1, game-ending run.
The Chieftains struggled from the free throw line through the game, but hit several down the stretch to preserve the win.
"That's huge," Kraft said. "You take a four-point lead, then we kept making free throws. That obviously puts the game out of reach at that point."
Stilgenbauer and senior Tavia Brown led Tonganoxie with 10 points each. Junior Jenny Whitledge finished one point short of a double-double, netting nine and grabbing 11 rebounds.
Both teams had trouble holding on to the ball in the first half, as they combined for 17 turnovers before intermission. BVSW led 11-8 after one quarter, but the Chieftains fought back to force a 22-22 tie at halftime.
A defensive battled unfolded in the third quarter, in which each team managed just eight points. Kraft's squad was more efficient down the stretch, though, as it turned the ball over just five times in the final two quarters.
"I thought we attacked better out of their pressure," Kraft said. "I kept telling them 'there are layups to be had if you'll break that pressure and attack.' We did a better job of that in the second half."
Tonganoxie will now face Silver Lake in Saturday's championship game. The Eagles, who won last year's tournament, reach the 2012 finals with big wins over Lansing and Eudora.
"(Silver Lake) is a very solid team," Kraft said. "They're not going to beat themselves. If we're going to win tomorrow, we're going to have to take the game away from them."
Tipoff is set for 5 p.m. in the school's main gym.
Score by quarters
BVSW 11 11 8 11 — 41
Tonganoxie 8 14 8 24 — 54
Individual scoring
BVSW — Emily Eldridge 5-15 0-0 11, Lexie Logue 4-15 0-0 10, Haley Fahnholz 2-2 1-3 5, Kyra Sprenger 1-2 3-4 5, Amanda Creason 1-7 2-8 4, Kobi Miller 1-2 1-4 3, Taylor Westrom 1-4 0-0 2, Laura Eldridge 0-3 1-4 1, Jenae Hicklin 0-3 0-0 0.
TONGANOXIE — Tavia Brown 4-6 2-4 10, Emma Stilgenbauer 3-6 4-7 10, Jenny Whitledge 3-9 3-7 9, Amanda Holroyd 3-8 0-1 9, Hannah Kemp 2-4 0-0 6, Madee Walker 1-5 2-2 4, Katelyn Waldeier 2-3 0-0 4, Emily Soetaert 1-1 0-0 2.
Friday's other scores
Silver Lake 54, Eudora 31 (Girls)
De Soto 49, Eudora 30 (Boys)
Blue Valley Southwest 58, Lansing 56 (Boys)
Saturday's matchups
Chanute vs. De Soto (Girls fifth place), 10 a.m., main gym
Lansing vs. Atchison (Girls seventh place), 10 a.m., west gym
Tonganoxie vs. Holton (Boys fifth place), 11:30 a.m., main gym
Atchison vs. Silver Lake (Boys seventh place), 11:30 a.m., west gym
Eudora vs. Blue Valley Southwest (Girls third place), 1 p.m., main gym
Eudora vs. Lansing (Boys third place), 2:30 p.m., main gym
Silver Lake vs. Tonganoxie (Girls championship), 5 p.m., main gym
Blue Valley Southwest vs. De Soto (Boys championship), 6:30 p.m., main gym