Food: Smooth operators
Smoothies blend nutrition and a simple package
Blend, baby, blend.
If you've set dietary goals for yourself in the new year, your best friend might just be your blender. Smoothies are an easy way to achieve, one frothy sip at a time. Whether you want to lose weight, gain weight, add veggies, add fruits, get more fiber, get more protein or break your kids (or yourself) of unhealthy soft drinks, there's a smoothie for you.
Karen Duggan, a certified nutrition consultant, says smoothies are one of the first weapons for better dietary health that she introduces to clients in and around Lawrence. One Saturday a month, she even serves up smoothies to college kids and community members at Baker University, where anyone can come and eat brunch on Saturdays. She's especially fond of adding dark, leafy greens such as kale, spinach and chard to smoothies with a fruit base.
"It's a great way to get some dark leafy greens into your diet. People sometimes have a difficult time eating them. But you never know they're in a smoothie," says Duggan, of Overbrook. "I just love how a smoothie enables you to get all the colors of the rainbow and eat your dark leafy greens. You get lots of good nutrition pretty economically without any preservatives and additives and chemicals and all that. And they don't need sugar either."
Duggan says this tactic is especially useful with children. Add some dark berries, or some cocoa and your kids won't even know there's spinach or kale in the smoothie.
But it works for adults, too.
Her basic smoothie for both young children and adults? Frozen banana, pure apple juice, dark leafy greens and an optional handful of blueberries if going green is a deterrent.
"I work with a lot of young moms and they'll go, 'My kids won't eat anything green.' Well, throw in blueberries, and then it turns it purple and then they won't know it's green," Duggan said. "That three-ingredient one is where I encourage people to start and that's what I use at the college campus. The frozen banana gives it that thickness that people like in smoothies."
Local Burger owner Hilary Brown said ingredients are everything when talking smoothies. Like Duggan, she likes them as pure as possible, avoiding adding anything too heavy. Unlike Duggan, she prefers a base of nondairy milk to juice. From there, the sky's the limit and the additions are unending. She allows customers at Local Burger, 714 Vt., Lawrence, to add in supplements, including coconut oil (which has medium-chain fatty acids), omega-3 heavy chia or flax seeds and even probiotics for gut health.
"We like coconut milk and rice milks — alternative milks — because of so many people who have issues with dairy," Brown says. "And then sweeteners like maple syrup and honey and agave and stevia. And then fresh fruits or real organic cocoa. ... You can add anything."
We've gathered a handful of smoothie recipes, so you can fire up your blender with an eye on health in 2012.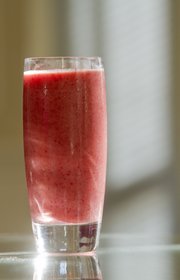 TRADITIONAL SMOOTHIE
Spa Smoothies
2 cups plain or vanilla yogurt
1 bag (10 ounces) frozen strawberries
2 tablespoons orange juice
1 tablespoon honey
In blender, place ingredients. Cover; blend on medium speed until smooth. Add more honey to taste if desired.
Pour into 3 glasses. Serve immediately.
— Recipe from www.cascadianfarm.com
GREEN SMOOTHIE
Basic Green Smoothie
1 frozen banana
1 to 1 1/2 cups apple juice (100 percent juice or apple cider – check labels for no preservatives or added sugars)
Kale or spinach (to taste, from a few leaves to a handful, de-stemmed)
Blueberries to taste (optional)
Blend all ingredients in a blender. Serves 1.
— Recipe by Karen Duggan, www.bodykarebykaren.info
PROTEIN-PACKED
Whey Protein Breakfast Blast
3/4 cup frozen blueberries
1/2 banana
3 tablespoons vanilla whey protein powder
1/2 cup skim milk (or non-dairy substitute)
2 teaspoons honey (optional)
3 ice cubes
1 tablespoon ground flaxseed
In a blender, thoroughly combine berries, banana, protein powder, milk and honey by pulsing a few times. Add ice cubes and blend until very smooth. Pour into a 16-ounce glass and sprinkle with ground flaxseed. Serves 1.
— Recipe from www.wholefoodsmarket.com
DINNER SMOOTHIE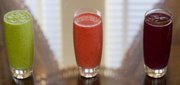 Savory Green Smoothie
1 cup water
4 stalks of celery with leaves, chopped
1 avocado
1 medium cucumber, with skin, chopped
1 lemon, peeled and seeded
1 handful of parsley
1 small clove of garlic
1/8-1/4 teaspoon Himalayan salt
Place all ingredients in a blender and blend on high until smooth. Drink immediately and enjoy! Serves 1-2.
— Recipe from www.nataliakw.com
KID-FRIENDLY
Kick Start Smoothie
1 ripe banana, chunked
1 cup frozen fruit (berries, peaches, mango, pineapple or a mix)
1 cup plain low-fat yogurt
1/2 cup orange juice
1 - 2 tablespoons honey or agave syrup
Add the fruit first, then the yogurt, juice, and 1 tablespoon of sweetener.
Blitz on high until smooth. Taste for sweetness, adding additional sweetener if fruit is tart, then blitz again briefly to blend.
Pour and serve. Serves 2.
— Recipe from www.organicvalley.coop
SURPRISE INGREDIENTS
Tart-N-Tangy Tropical Green Tea and Soy Smoothie
4 tea bags (organic green tea)
1/2 cup water
2 handfuls ice cubes
3 kiwi fruits, peeled and sliced
1 cup fresh pineapple, in chunks
1/2 cup banana, peeled and sliced (frozen too, if you like it creamy)
1/2 cup vanilla soy milk
1 cup no-pulp-added orange juice
1 tablespoon fresh lime juice
1 tablespoon honey (or to taste)
Bring cold purified water to a boil and pour 1/2 cup over tea bags. Steep for 3-5 minutes; remove and squeeze tea bags. Add one handful of ice to the tea to bring down the temperature.
Pour the chilled green tea into a blender along with the remaining ice, kiwi slices, pineapple, banana, soy and juices. Blend until smooth. Add honey to taste and serve cold, preferably with an umbrella and fresh fruit garnish. Serves 2.
— Recipe from www.organicvalley.coop