Former Basehor administrator Loughry suing city for more than $500,000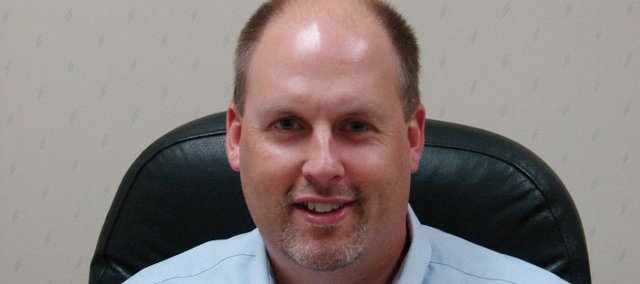 Related document
Former city administrator Mark Loughry plans to sue the city of Basehor for actions surrounding his firing in September. He's seeking more than $500,000 in damages.
Loughry informed the city of his intent to sue last week in a claim notice, which was turned over to the Sentinel via Freedom of Information request Monday. In the notice, Loughry's attorney accused the city of public defamation, breach of contract and due-process violations, alleging "egregious conduct" by city officials.
Loughry alleges his firing and accusations of improper conduct made by Basehor City Council members in its wake damaged his reputation and hurt his chances of finding another job.
"Mr. Loughry has been the victim of a civil conspiracy and has been publicly defamed and portrayed in a false light by the City of Basehor," said Paul Redfearn, Loughry's attorney, in the claim notice.
The Basehor City Council fired Loughry at its September meeting in a surprise 3-2 vote. After the firing, the Sentinel reported on a former city attorney's accusations that Loughry had revised his contract to add additional health benefits for his family and misreported the wages he'd received from his previous employer, the city of Hays.
Loughry has denied any wrongdoing in both instances.
The lawsuit notice cited city council members' public comments surrounding those accusations, saying they were defamatory and false. It also said the council's firing violated Loughry's employment contract, which stated that he must be provided 10 days' notice of any termination and be allowed to defend himself in a hearing with the city council.
Loughry, who was hired in December as the finance director for the city of Raytown, Mo., said Monday he would decline to comment on the lawsuit, based on advice from his attorney. Basehor Mayor Terry Hill and City Council President Dennis Mertz also declined comment, citing advice from attorneys.
Neither Redfearn nor Michael Seck, the attorney representing Basehor in the matter, could be reached for comment Monday.
Any damages paid by the city would most likely be covered by liability insurance, interim city administrator Lloyd Martley said.
According to the claim notice — which is required by state law before a lawsuit against a city government — Loughry will file his lawsuit 120 days from its receipt, unless the city denies his claims for damages earlier.
Since Loughry was fired, three Basehor officials have been the targets of recall efforts by residents accusing them of misconduct connected to the firing. Mertz and city council member Iris Dysart, each of whom voted for Loughry's firing, will be the subjects of a recall election Feb. 28. Hill, who opposed the firing, is also set to appear on the recall ballot, though he is challenging his recall in court.