Tonganoxie Invitational: By the numbers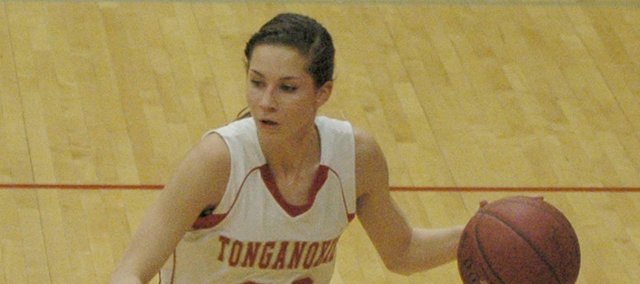 Here are some notes about the Chieftains' top performers on both the girls and boys sides of the Tonganoxie Invitational.
GIRLS NOTES
Tonganoxie had three All-Tournament team selections in juniors Jenny Whitledge and Hannah Kemp, as well as senior Tavia Brown.
Whitledge averaged a double-double in the Chieftains' three games, scoring 14.3 points and grabbing 10.3 boards per game. She finished as the tournament's leading rebounder and her scoring average was topped only by the 17.7-point average of Silver Lake's Rebecca Holder, who was named the tournament MVP.
Whitledge was one of two Chieftains to rank among the tournament's top-five scorers and one of four in the top 20. Brown was third with 13.3 points per game, sophomore Emma Stilgenbauer ranked 16th with 7.7 and Kemp checked in at 18th with 6.7.
Brown, the Chieftain's top threat in the post, also made her presence felt on defense. She ranked second among all players with 1.7 blocks per game, including three against Atchison. She also ranked second in field goal percentage, sinking 66.6 percent of her shots (18-of-27).
Kemp was the tournament's most efficient shooter from beyond the 3-point arc, where she connected 60 percent of the time (6-of-10). That includes a 3-for-3 effort in the championship game against Silver Lake. Senior Amanda Holroyd drained 42.8 percent of her treys (6-of-14), which was good enough for fourth.
Kemp also proved herself as the a solid passer, as she dominated the tournament field with 6.3 assists per game. Her nine-dish effort against Atchison matches the three-game total of the next highest finisher, Silver Lake's Perry Krogman (3.0 per game).
BOYS NOTES
The Tonganoxie boys had three of the tournament's top 20 scorers. Senior Dane Erickson, the Chieftains' only All-Tournament Team selection, ranked third with 17.3 points per game. Junior John Lean ranked seventh with 14.3 and sophomore Eric McPherson came it at 19th with seven.
McPherson led Tonganoxie in rebounding and finished second among all tournament participants. His average of 6.3 boards per game was second only to Anthony Miller of Blue Valley Southwest (7.3). McPherson's best rebounding performance came against BVSW when he pulled in eight.
In addition to providing a viable option on the glass, McPherson continues to establish himself as an efficient shooter. He made 69.2 percent of his attempts in the tournament (9-of-13), which trailed only the 72.7 percent effort by Atchison's Trenton Smith (8-of-11).
Seniors Colby Yates and Dylan Jacobs were Tonganoxie's best 3-point threats during the tournament. Yates went 44.4 percent from beyond the arc (4-of-9), while Jacobs shot 36.3 percent (4-of-11). All of Jacobs' makes were part of his 16-point effort against Holton.
Lean, the Chieftains' second leading scorer this season, make some noise in other statistical departments during the tournament. He led all players with 4.7 assists per game — he had eight against Atchison — and ranked sixth with 2.7 steals per contest.