Basehor-Linwood school dog among Kansas-trained canines that brighten days for many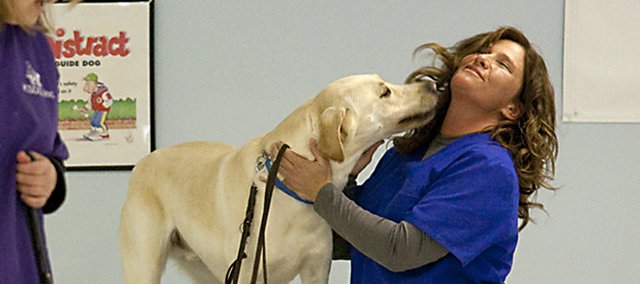 Washington, population 1,100, is one of the small Kansas towns not far from the Nebraska border along Kansas Highway 36, in the north-central part of the state.
As you shoot through town, one block from the Marcon Pie Factory, and before you get to Washington's one restaurant, you'll see a series of nondescript buildings right off the main road.
The few windows and the gray vinyl siding give visitors little clues as to what goes on inside the complex. The inhabitants are rambunctious but well-trained, and their barking can't be heard from outside.
Newcomers are greeted by Morris, a tubby feline tour guide who will accompany visitors to the kennels, where the sight of a dog's best friend causes a ruckus among the dozens of golden retrievers and black and yellow Labradors.
The dogs, over a span of more than two years, have been trained to protect, assist and guide a human companion through the world, away from cars, up escalators, to the kitchen and out of bed.
After their intensive training is complete, the dogs will be sent all over the country, giving independence back to the visually impaired and others with disabilities, all free of charge.
Welcome to the headquarters of KSDS.
Puppy raisers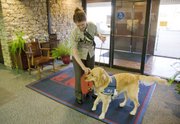 Lawrence resident Nancy Giossi's assistance-dog-in-training, McLaren, a 22-month-old golden retriever, accompanies Giossi to work during the week at the Kansas University Department of Continuing Education.
Giossi, who's been a KSDS puppy raiser for nearly a decade, has a personal story of how she first became involved with the agency. One of Giossi's childhood friends had to use a wheelchair after an accident. Knowing a service dog would help her friend, Giossi signed up, raising the very dog her friend would be assigned to.
Giossi's been a puppy raiser ever since, and McLaren is her fourth training dog.
During the day, McLaren faithfully sits under Giossi's desk wearing his work clothes — a KSDS-embroidered cape that lets McLaren know he's supposed to be on his best behavior.
"When he wears his cape, he's nice and calm," Giossi said. "When the cape comes off, he's a wild man."
McLaren has become a workplace favorite for employees. With his teeth, McLaren carries papers between offices and shuttles the watering can around the building.
In addition to such tricks, Giossi trains McLaren on 40 or so other commands.
In two months, Giossi will send McLaren back to KSDS, where he'll be screened and receive his final training.
While McLaren seems like the perfect dog, Giossi tells stories of the behind-the-scenes work of a puppy raiser, when McLaren chews up cellphones or acts up.
"The time commitment is huge," Giossi said. "Twenty-four hours a day, 365 days a year."
But it comes with the territory, and Giossi said it's impossible not to get emotional as McLaren's return date approaches.
"It's very hard," Giossi said. "We cry a lot" when it's time to say goodbye.
"But we know that they're going on to bigger and better things," she said. "They're going to give somebody independence."
A person's needs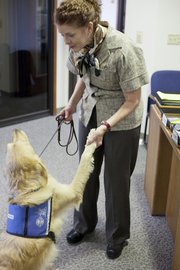 If there's a doggy heaven, it'd probably look something like the KSDS headquarters.
In the main building, the golden retrievers and Labradors frolic about, learning commands, playing games and getting kisses from the organization's dedicated staff.
But it's not all fun and games, said Larry Stigge, executive director. The dogs are working and the trainers equally so.
The trainers "have to have so much patience," Stigge said.
The work is repetitive, as the trainers teach the dogs to sit, stand, climb on the grooming table and heel. Over and over again.
The dogs are all in different stages of training and are being trained for different tasks.
The two dozen dogs are rotated in shifts throughout the day for an hour or so of training per day.
Some of the dogs will be guide dogs for the visually impaired, others will be service dogs assisting those with disabilities, and others will become social dogs, used in schools and hospitals for therapeutic purposes. More than 100 assistance dogs who have been trained at KSDS are scattered in 32 states, Stigge said. Since 1990, the organization has trained more than 400 dogs.
When the dogs come back to KSDS from the puppy raisers, the staff evaluates the dogs to see which type of assistance dog will be the best fit. Once the dogs are trained, the people who will receive them come to KSDS for more specific training on each person's needs. Those receiving an assistance dog stay in on-site dormitories for up to three weeks.
Debbie Tegethoff, a guide dog trainer for the past 13 years, was working with a black Labrador named Cadillac on a recent day. Cadillac is nearing the end of his training and listens obediently to Tegethoff as she puts his guide harness on and directs him to the door for a walk.
Braving the brisk winter weather and high winds, Cadillac hugs the curbs on the street, directing Tegethoff around obstacles, such as parked cars and potholes. In addition to acting as the eyes of a visually impaired person, Cadillac is trained to give his life, if need be, by blocking any threat from his owner.
Through the years, Tegethoff has worked with hundreds of dogs and says the best part is seeing the quick connections and deep impact the dogs make on their owners and new best friends.
"Seeing the independence that these dogs give to people," she said. "It's amazing."
While Tegethoff works with the more experienced Cadillac, fellow trainer Ann Metz wrestles around with Indigo, a newer yellow Labrador that will someday be a service dog.
Though he looks a little unwieldy today, once he's matched with his owner, Metz said, he'll be able to open doors, help put on and take off clothes, retrieve food from the refrigerator and pick up just about any object — even something as small as a paperclip.
"Just depends on what a person's needs are," Metz said of a service dog's abilities.
Being social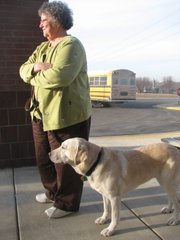 In front of Glenwood Ridge Elementary School south of Basehor, student after student pets Zip, an 8-year-old yellow Labrador, on the head as they file onto the bus.
Zip, too, was trained by KSDS. But unlike the service and guide dogs trained there, she hasn't been taught to devote her full attention to helping one person. Instead, she provides a comforting, friendly presence for many people — in her case, elementary students. She is a social dog.
And it's plain to see why Zip was deemed a better fit for this job, said her owner, Marilyn McGown. She'd never cut it as a guide dog.
"She'd be saying hello to everybody," said McGown, a school counselor in the Basehor-Linwood school district.
But as a social dog, Zip is perfect, she said.
The dog welcomes students as they come in the front doors in the morning, says goodbye when they leave and does a lot in between.
But perhaps never is she more helpful than when a student comes into McGown's office tearful or upset. The moment a child comes in the door, Zip hops up from the floor and comes to his or her side. McGown calls it "unconditional love."
"She just sits right there by them, puts her head in their lap," McGown said.
Zip is McGown's second social dog trained by KSDS. She was preceded by Hunter, who died in 2005 and was the first social dog KSDS sent anywhere.
McGown, who grew up in the town of Washington and knew of KSDS, asked the organization in 1994 about training a social dog after she read a journal article about a principal who brought her dog to school. She thought it might be a way to help kids enjoy school more.
KSDS took on the challenge, and since then it has trained nearly 100 social dogs for placement in schools, nursing homes, mental health facilities and medical practices, Tegethoff said.
Social-dogs-in-training at KSDS take trips to an elementary school in Washington, Tegethoff said, where students simulate injuries, temper tantrums and crying fits to make sure the dogs can remain calm. They also visit nursing homes, where they practice giving each of the residents a friendly greeting.
"The social dog has to be very tolerable of all kinds of situations," Tegethoff said.
McGown recalled that when she first proposed to the Basehor-Linwood school board that she use a dog for counseling purposes, the practice was unusual. But since then, it's become more common, she said.
"The school board took a leap of faith to try it, I think," McGown said. "But now there are dogs in lots and lots of schools."
Out in the world
Step into the cafeteria on the fifth floor of the Landon State Office Building in Topeka, and as you make your way to the snack bar, you'll pass Kircaldy, a 3-year-old golden retriever.
During his eight-hour workday, Kircaldy naps on a doggy bed in an alcove below a sign asking visitors not to pet or feed him. All day, he waits patiently, occasionally popping his head up.
Lethargy quickly turns to enthusiasm the minute Kircaldy's owner, Bill Dain, steps out from behind the kitchen.
"The second I'm ready to go, he's ready to go," said Dain, the visually impaired owner and operator of the cafeteria.
For 15 years, Dain's been guided through the world by a dog like Kircaldy. First, there was Leggo and, more recently, Bronco.
Dain has owned and managed the cafeteria, as well as one other a few blocks away, for 11 years.
Glaucoma and macular degeneration slowly robbed Dain of most of his vision, and, before the guide dogs supplied by KSDS, Dain used a cane, but his mobility was limited. It was much more difficult to come and go as he pleased, and managing two cafeterias wouldn't have been possible.
Dain, like all of those who receive guide dogs from KSDS, spent a week or so in Washington getting acquainted with Kircaldy. Tegethoff, the KSDS trainer, also traveled to Topeka for a couple of weeks, helping Dain train Kircaldy in navigating a daily routine.
The duo wake at 3 a.m. every day during the week and are dropped off in Topeka by Dain's wife. By 5 a.m., Kircaldy has helped Dain get to the cafeteria for the daily shift. Throughout the work day, Kircaldy helps Dain back and forth between the two work sites. Some days after work, they shop, and Kircaldy has learned to find very specific items at the grocery store, such as bananas and even canned enchilada sauce.
And when his work day is done, Kircaldy takes his guide dog harness off and "he's a full-blooded dog," Dain said, running around and lounging at their home.
"I got my independence back," said Dain of the gift of a guide dog. "The feeling of being free. It's indescribable."
Matt Erickson contributed to this story.