THS

seniors part of another state run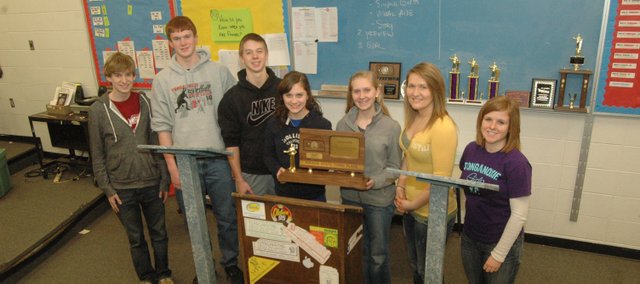 The term "heated debate" has credence when referring to a certain Tonganoxie High School team.
The THS debate program has established quite a reputation as being a traditional powerhouse in the state.
As senior debate member Parker Osborne noted, competing against other teams is all smiles, handshakes and friendly talk at tournaments.
That is until the teams enter into their actual debates.
"You make nice with the other team," senior Parker Osborne explained. "It seems like you're going to be nice to each other."
And then comes the debate itself, and it can get a bit intense, Osborne said.
"You know you will never talk to that person again because they hate you," Osborne said.
Fellow senior Ben Williams concurred.
"Some rounds are fine," Williams said. "Some have gotten heated."
Osborne, Williams and many of their teammates paint debate as an activity that takes hours of preparation that pays off with fun during meets, but it's a considerably competitive event.
And one that comes with some pressure.
THS has won 13 Class 4A state championships — eight in four-speaker and six in two-speaker — and has placed additionally several times in state meets.
At this year's state meet, Jan. 13 and 14 in Silver Lake, THS teams earned third- and fourth-place finishes in the two-speaker event.
Seniors Natasha Sudac and Maggie Gripka combined for the third-place effort, tying St. James Academy's Cole Fieldman and Eric Zheng.
There seems to be a pressure to continue the winning ways in Tonganoxie, and team members admit that it's self-imposed.
Gripka said she and Sudac finished fifth a year ago and were "freaking out" about having a better showing in their final season.
High-school debaters around the country this year argued on the topic of U.S. space exploration. Gripka and Sudac argued on the affirmative side, supporting space exploration. They made the case that increased space activity would allow for medical research that could produce breakthrough findings.
"It was out of this world — literally," Sudac said jokingly.
Preparing for the debate meets takes hours of work, and it was accelerated in the week leading up to state. Some team members met after school to practice, while most were putting in at least two hours each night.
And that means practicing debates against classmates.
"I like debating people I don't know," Gripka said. "If we debate in class, I know these people. If it's other people, I want to get my point across, and I don't care what it takes for you to hear me."
A debate season doesn't go by without a bit of chaos. The debate room on the THS west campus isn't the tidiest when debate members are in full swing. Papers full of research information are strewn everywhere.
That goes for senior Lindsey Truesdell's room at home, too.
"The week of state, in my bedroom, I was pushing aside papers to find clothes underneath," Truesdell said.
Truesdell's teammate was senior Brady Field this year. Their case: The U.S. federal government should build solar power satellites in space to provide energy on Earth.
Field described preparing throughout the season — which starts in September — as challenging and gratifying simultaneously.
"You have to think on your feet," he said. "When you don't know what to say, it's a scary situation. It's kind of like a double-edged sword."
Truesdell said it's a challenge getting a feel for judges and connecting with the audience at debate meets. She also noted that judges' knowledge of debate varies, so that can be a challenge also.
For two-speaker colleagues Williams and Dane Erickson, competing on the state stage has meant taking on other heavyweights in the debate world. They pointed to Fort Scott, Buhler and more recently, St. James Academy, as some of the big programs in Class 4A.
The duo faced Fort Scott twice and was victorious both times. The seniors finished up their careers taking fourth at state. Their case this season, also in the affirmative, was to fully fund a joint polar satellite system.
Debate team members have usually used a stack of papers for reference during competitions, but this year students were allowed to use laptops.
Erickson and Williams said they stuck with what they were used to throughout their debate careers and used paper copies.
THS coach Steve Harrell has overseen one of the top programs in the state for several years. Though he pointed to Moundridge as possibly being the top program in the state — the 2A school's first of many titles came in 1942 — Harrell's program could hit a milestone in 2013.
THS has advanced to state 19 straight years and will be gunning for No. 20 next year.
"You hope you get to a place where that kind of thing becomes normal and expected," Harrell said. "But it also brings with it its own set of challenges. Kids' expectations are pretty high.
"Sometimes they can feel that pressure and it weighs against them. Sometimes when you achieve something pretty cool like a third-place finish at state, you feel kind of disappointed, like you missed the mark, which isn't realistic, because it's pretty cool to take third at state."
For the seniors, it was the final competition, which Gripka called "bittersweet," adding that she wasn't sure whether it actually was sweet. She said the long hours and preparation were a pain, but it was worth it when it came to competitions.
"It's definitely a love-hate relationship," Williams said, also mentioning the time commitment and the giving up of many a Saturday to attend meets.
But as the seniors head off to college, the beat goes on for THS debate team and, it's hoped, a 20th consecutive state appearance.
"You already feel that tinge of pressure picking up that 20th," Harrell said. "It's self-imposed. You always want to see that streak continue."
THS state debate championships
Four-speaker
2010
2005
2004
2003
2002
2001
2000
1999
Two-speaker
2009
2008
2003
2001
2000
1998