Holroyd's four treys power Chieftain girls past Lady Red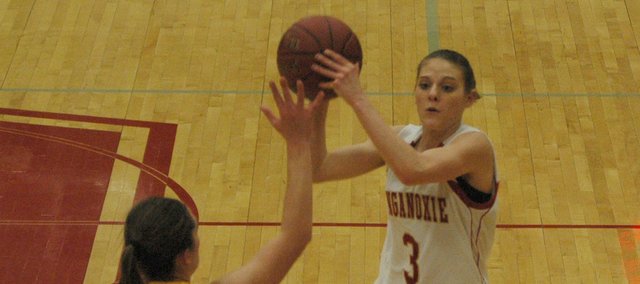 Photo Gallery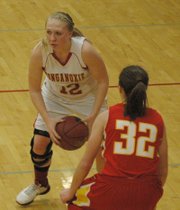 Tonganoxie vs. Atchison
The Chieftains returned to the hardwood when Atchison paid a visit on Friday. The girls left with a 47-23 win, while the boys picked up a 64-33 victory.
In the world of sports, extended time off can be a team's worst nightmare. Such was the case Friday when the Tonganoxie girls ended a five-day break with a home game against Atchison.
However, any rust the Chieftains may have accumulated was gone well before game time. They rode a career night by senior Amanda Holroyd to a 47-23 victory.
It was Tonganoxie's second win over the Lady Red in as many weeks. The teams met in the opening round of last week's Tonganoxie Invitational, and the Chieftains claimed a 72-36 decision.
"We won by a pretty good margin the first time around, so I cautioned the kids about being complacent," coach Randy Kraft said. "I don't think we were early in the game."
Kraft's squad established control from the get-go, opening the game on a 17-0 run. They extended their advantage to 21-2 at the end of the first quarter, and the rout was on.
Holroyd was a pivotal part of the initial scoring run, as she connected on four consecutive 3-point attempts.
"I've had four in two other games, but never in a row," she said. "I was just catching the ball in rhythm and shooting it."
Holroyd finished with a season-high 14 points on 4-of-6 shooting. She was the only player to reach double figures. Junior Jenny Whitledge just missed a double-double, scoring nine points and grabbing 10 rebounds.
The Chieftains (8-4) continued to pull away, as Atchison couldn't find any more offense in the second quarter. Tonganoxie held the Lady Red to a single point in the period and took a 28-3 lead into halftime.
As a team, Atchison shot just 1-of-17 from the field and committed 15 turnovers before the break.
"Our defense was pretty good in the first half," Kraft said. "A lot of it was our pressure, then they were throwing balls away. We were really limiting their shots."
The blowout continued after the break, as Tonganoxie extended its lead to 42-14 by the end of the third quarter. The deficit reached 30 early in the fourth quarter, which put a running clock into effect.
The win is the Chieftains' fifth in the last six games. More importantly, though, Holroyd said it gives them some momentum heading into Tuesday's showdown with Basehor-Linwood. The Chieftains dropped a 41-38 decision to the Bobcats in their season opener on Dec. 2.
"We got to work on stuff to get back in a rhythm for next Tuesday," she said. "I think that gets our confidence back up."
Tipoff is set for 6 p.m.
Score by quarters
Atchison 2 1 11 9 — 23
Tonganoxie 21 7 14 5 — 47
Individual scoring
ATCHISON — Arika Smith 3-13 0-0 8, Madison Sanders 3-7 0-0 6, Ashton Ettleman 1-3 1-2 3, Rachel Sowers 1-6 0-0 3, Paige Wood 0-8 2-4 2, Alyssa Cline 0-0 1-2 1, Marianna Markou 0-2 0-0 0.
TONGANOXIE — Amanda Holroyd 4-6 2-2 14, Jenny Whitledge 4-10 1-2 9, Tavia Brown 3-7 2-2 8, Emma Stilgenbauer 3-5 1-4 7, Haley Smith 3-8 0-0 7, Hannah Kemp 1-3 0-0 2, Kara Banks 0-1 0-0 0, Emily Soetaert 0-2 0-0 0, Katelyn Waldeier 0-3 0-0 0, Madee Walker 0-5 0-0 0.