THS

wrestling finishes 3rd at Baldwin Invitational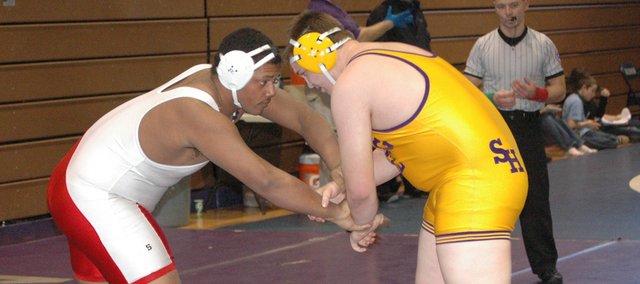 Photo Gallery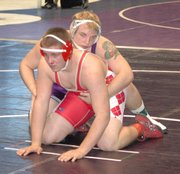 Tonganoxie wrestling at Baldwin Invitational
The Chieftain wrestling team finished third in the team standings at the 11th annual Baldwin Invitational Tournament on Saturday.
Baldwin City — Five Chieftains placed in the top four of their respective weight classes and Tonganoxie High finished third in the team standings at the 11th annual Baldwin Invitational Tournament on Saturday.
Coach Jeremy Goebel's group combined for a team score of 155.5. Prairie View won the tournament with a score of 170.5 and Holton took second with a score of 166. For the second straight meet, the Chieftains were without several regular starters due to various injuries.
"If we have our full team there, we're probably scoring a lot more points," Goebel said. "But that's huge for our kids that are stepping in there and filling those roles. Our kids' mindsets are right there."
As he's done so many times this season, sophomore Clayton Himpel led Tonganoxie with a 4-0 performance and individual title in the 120-pound class. Since going 5-2 at the Bobcat Classic on Jan. 14, the 2011 state qualifier has won eight straight matches and improved his season record to 32-4. He is ranked No. 4 in the state in his weight class.
"He's just motivated and determined," Goebel said of Himpel. "He'll continue to be successful. It's getting close to crunch time and he's gradually been stepping it up."
Senior Matt Soetaert also made an appearance in the finals, going 3-1 to finish second in the 152-pound class. Freshman Asher Huseman (138 pounds) and junior Julius Coats (182 pounds) finished third in their respective classes, while senior Caleb Himpel (126 pounds) finished fourth.
The one-day tournament marked the return of senior Ryan Lynch, who had been sidelined due to a skin condition. Lynch went 3-2, which was good enough for fifth in the 170-pound class.
"It just feels great (to be back)," Lynch said. "When you go two weeks without wrestling, it sucks having to watch everyone else wrestle."
Junior Joe Wolf, ranked No. 4 in the 132-pound class, missed his second straight tournament because of injury. He he hasn't competed since the Bobcat Classic. Senior Anthony Bates wrestled in his place and took sixth. Senior Adam Thomas, the team's regular starter at 145 pounds, was also out of commission. He was replaced by freshman Seth Wolf, who wrestled at the varsity level for the first time since the Wamego Invitational on Dec. 3.
Additionally, the Chieftains competed without a 106-pounder for the first time this season. Freshmen Connor Yates and Sinjan Gergick have both seen time at that spot in 2011-12.
"We've still kind of got the injury bug," Goebel said. "We're trying to get healed up and back to 100 percent. In terms of getting our full team back to full strength, we want to make sure we're completely healed."
The Tonganoxie junior varsity was also in action over the weekend at the Justin Irvine Memorial Tournament at Pleasant Ridge High School near Easton. Six of the Chieftains' 10 participants earned top-four finishes.
The varsity and JV squads will return to the mat when they travel Thursday to Bonner Springs for a triangle with Bonner Springs and Lansing in the BSHS gym. That will be the team's final competition before the Kaw Valley League tournament at Mill Valley on Feb. 11. Six days later, the Chieftains will head to Spring Hill for regional action.
"We'll just have to work hard," Lynch said. "I think we can take league and I think we can take regionals. We've got a lot of talent on this team."
Thursday's competition will begin at 5:30 p.m.
Overall team results
Prairie View — 170.5

Holton — 166

Tonganoxie — 155.5

Oak Park — 138.5

Baldwin — 125

Lansing — 111.5

Royal Valley — 109

De Soto — 101.5

Santa Fe Trail — 101

Spring Hill — 89

Basehor-Linwood — 58

Louisburg — 58

Paola — 48.5

Eudora — 47.5

Perry-Lecompton — 40
THS individual results
Tourney, Overall (Tourney finish)
113 pounds — Dalton Tavis, 2-2, 24-10 (Seventh)
120 — Clayton Himpel, 4-0, 32-4 (First)
126 — Caleb Himpel, 3-2, 19-10 (Fourth)
132 — Anthony Baker, 2-3, 11-7 (Sixth)
138 — Asher Huseman, 4-1, 28-6 (Third)
145 — Seth Wolf, 0-2, 12-6 (N/A)
152 — Matt Soetaert, 3-1, 26-11 (Second)
160 — Luke Carey, 2-1, 15-15 (Ninth)
170 — Ryan Lynch, 3-2, 16-12 (Fifth)
182 — Julius Coats, 3-1, 19-13 (Third)
195 — Thomas Miller, 2-2, 12-15 (Seventh)
220 — Zeke Kissinger, 1-1, 23-12 (Sixth)
285 — Ty Barton, 3-2, 17-15 (Fifth)
Individual JV results
113 — Garrett Martin, 3-0, 15-1 (First)
126 — Steven Stockman, 0-2, 2-11 (N/A)
126 — Sage Herrera, 1-2, 5-8 (N/A)
132 — Duskin Hull, 0-2, 6-8 (N/A)
138 — Josh Sloan, 3-1, 11-6 (Third)
145 — Thomas Minor, 3-1, 5-5 (Third)
145 — Kendall Parsons, 2-2, 6-8 (N/A)
145 — Tyler Warthen, 0-2, 4-10 (N/A)
160 — Gus Dent, 2-1, 3-4 (Second)
182 — Will Bond, 3-1, 10-5 (Third)