Chieftain girls win rematch with Basehor-Linwood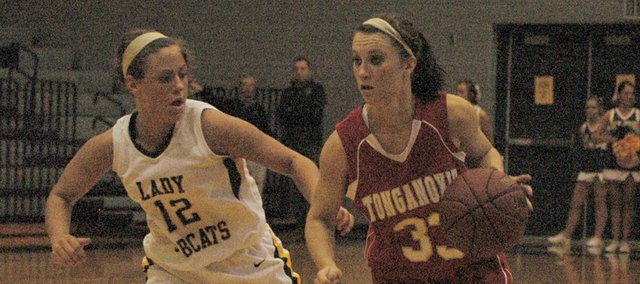 Photo Gallery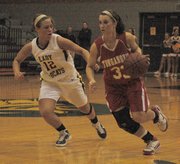 Tonganoxie at Basehor-Linwood
The Tonganoxie High basketball teams travelled to Basehor-Linwood on Tuesday. The Chieftain girls picked up a 54-36 victory, while the boys suffered a 63-39 loss.
Basehor — As the old saying goes, "victory is sweet, but revenge is sweeter."
Juniors Jenny Whitledge and Hannah Kemp scored 14 and 12 points, respectively, and the Tonganoxie High girls avenged their season-opening loss to Basehor-Linwood with Tuesday's 54-36 victory.
The Chieftains (9-4) stumbled out of the gate, but regained their composure to take a 21-17 lead at halftime. They grabbed complete control in the third quarter, outscoring the Bobcats (5-7) by a 19-11 margin.
"(Tonganoxie) pressured the ball and they got hot with some shots," BLHS coach Noah Simpson said. "It seemed like they got on a roll and we couldn't hit a shot."
After watching Tonganoxie shoot just 25 percent and commit 12 turnovers in the first two quarters, Chieftain coach Randy Kraft preached the importance of ball control during intermission. Kraft's squad responded, sinking 55.6 percent of its shots after the break.
"(Basehor-Linwood) plays a different style of defense. They're in the passing lanes a lot, so there's not as much pressure," Kraft said. "We got to penetrating that and I think it kind of changed the game."
The Bobcats controlled the game early on, jumping out to an 8-4 lead three minutes into the first quarter, but the Chieftains battled back to take a one-point lead at the end of the period. Tonganoxie continued to find a rhythm on offense, but only managed to extended its lead to four by halftime.
BLHS suffered a loss during Tonganoxie's initial scoring run, as junior Jamie Johnson was injured in a collision with THS senior Amanda Holroyd. Johnson, who made her first three shot attempts, would not return. She finished as the team's second-leading scorer with six points.
"Our talk in the locker room after the game was about learning how to deal with adversity," Simpson said. "Like I told them, bad things happen, but we have to find a way to fight through it and bounce back."
Bobcat senior Bailey Hooker led all scorers with 15 points. She was the only BLHS player to reach double figures. Holroyd added nine for the Chieftains on a 3-of-5 effort from beyond the 3-point arc. She has hit seven treys in Tonganoxie's last two contests. Whitledge grabbed a team-high eight rebounds, leaving her just two shy of a double-double.
The Chieftains' victory — their sixth in the last seven games — means the teams split the regular season series at one game apiece. The Bobcats took a 41-38 decision Dec. 2 at Tonganoxie.
"We were a different team then," Kraft said. "That was one that got away from us."
Both teams will be back in action on Friday. Tonganoxie will head to Piper, while BLHS will play host to Turner.
Score by quarter
Tonganoxie 12 9 19 14 — 54
BLHS 8 9 11 8 — 36
Individual scoring
TONGANOXIE — Jenny Whitledge 4-9 6-6 14, Hannah Kemp 2-8 6-10 12, Amanda Holroyd 3-5 0-0 9, Emma Stilgenbauer 2-5 1-2 5, Haley Smith 2-7 0-0 5, Katelyn Waldeier 1-3 1-2 3, Emily Soetaert 1-1 0-0 2, Tavia Brown 1-4 0-0 2, Madee Walker 0-0 2-2 2.
BLHS — Bailey Hooker 6-9 3-5 15, Jamie Johnson 3-4 0-0 6, Maggie Hattock 1-8 1-2 4, Amber Garver 2-7 0-0 4, Victoria Smith 1-1 1-4 3, Samantha Rutherford 1-3 0-0 2, NaQuari Harris 1-3 0-0 2, Kara Stephens 0-3 0-0 0, Alex Gorman 0-5 0-0 0.