Chieftain grad Yates staying busy on golf course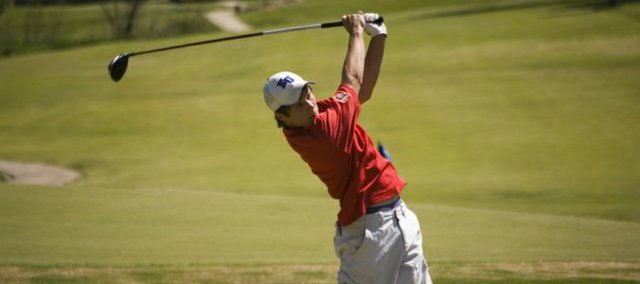 The 2012 high school golf season officially came to a close in May, but that hardly meant Colby Yates was done on the links.
Since wrapping up his Tonganoxie High career, the recent Chieftain graduate has spent plenty of time on the course as a member of the Kansas Golf Association's junior circuit. He's played in several tournament across the state this summer, and he's done so against some of the top youth golfers in Kansas.
"The caliber of players this summer has been great," Yates said. "I've been out of town a lot, just playing in the KGA."
KGA golfers accumulate points throughout the season and those with the most points will qualify for the Kansas-Nebraska Junior Cup on August 8-10 in Manhattan. Among the tournaments Yates has already competed was the Kansas Boys Junior Amateur Championships June 11-14 at Buffalo Dunes Golf Course in Garden City. Yates tied for 19th in the overall standings with a three-round score of 234 (18 over par).
Most recently, he competed in The Railer at Sand Creek Station Golf Course in Newton. He tied for sixth with a score of 217 (1 over par). He said he's averaged in the low 70s throughout the summer with a low of 68.
Yates, who will golf collegiately at the University of Missouri-St. Louis, traveled Monday to Kansas City's Meadowbrook Country Club for the Kansas Amateur Qualifier. Later this month, he'll head to Emporia for the Junior Section Team Championship and Junior Match Play Championship, which will both be played at Emporia Municipal Golf Course.
In addition to earning as many points as possible this summer, Yates emphasized the importance of keeping himself fresh for his first season at UMSL. The Tritons' 2012 schedule was recently released, and Yates said there is plenty of incentive to stay on top of his game.
"I want to stay competitive because my goal will be to make the traveling team," he said. "Our schedule just got released and it looks awesome. We travel all over the place."