Renovated eatery gives props to past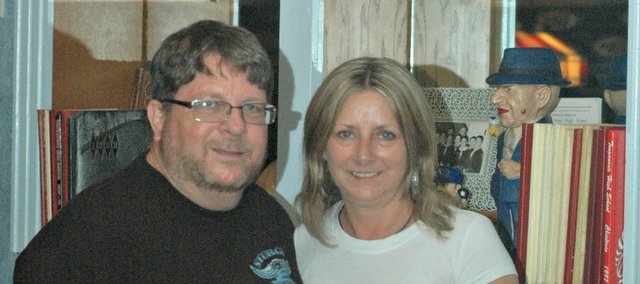 Jarbalo High School purple and gold basketball and football jerseys circa 1939 grace a wall at Flashbacks.
Walk farther into the establishment and you can find Tonganoxie High School helmets from 1966 and 1986 displayed atop a case with other local memorabilia.
"We want it to be inviting," owner Charlie Conrad said. "We want you to feel comfortable. We want you to look around."
The restaurant, formerly known as T-Town Bar and Grill at Fourth and Main streets, opened "very quietly" June 23, Conrad said. The restaurant features barbecue and complements West End Café on the other end of downtown, which Conrad and his wife, Debi, also operate. West End is open for breakfast and lunch and Flashbacks for evening crowds.
Charlie Conrad said he originally thought about the name Memories, but Debi suggested another name along that line — Flashbacks. Charlie said he hoped the various wall hangings would elicit memories for patrons and help strike up conversations about yesteryear.
"There are things for every generation," Debi said.
Before it was T-Town Bar and Grill, Charlie operated the business as Tuna's Tavern. Before that, it was Wander In.
Patrons can order beer or other alcoholic beverages, but Charlie said Flashbacks is a family restaurant and wants it to be an inviting place for parents to bring their children.
"We're excited about it," Charlie said. "We've been very pleased in the first days. People have been very receptive and very honest."
A New York strip steak, Chicago hot dogs and other items such as pork tenderloin and burgers are on the menu.
A new L-shaped bamboo bar can be seen to the left upon entering the restaurant. Above the bar is a 48-star American flag.
West End Café has been open about 2 1/2 years and the Conrads have "no plans of closing it," Debi said.
"We're staying up there, too."
They own the Flashbacks building and rent from Mary Cronemeyer at West End Café.
The Conrads have put many hours into renovating the Flashbacks building and received help from others in getting the building ready for business. A new front door was donated, which was painted by the late Jerry Starcher.
"I think people are pleasantly surprised with the changes we've made," Charlie said. "Every one has that 'wow' effect."
Debi agreed.
"We completely remodeled top to bottom," she said.
Charlie said they plan to have youth and adult pool leagues, as T-Town did, eventually.
The restaurant is open 4-10 p.m. Mondays through Thursdays and 4 p.m.-midnight Fridays and Saturdays.