THS

wrestlers travel to Nebraska for team camp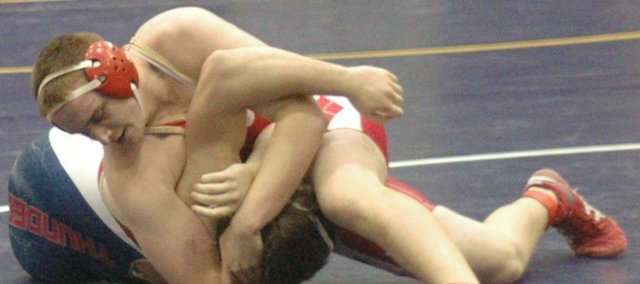 The Tonganoxie High wrestling team reached one milestone after another last season, and the Chieftains are already preparing for an even more memorable year in 2012-13.
Ten members of last year's Kaw Valley League championship team traveled to Kearney, Neb., for a three-day team camp June 27-29 at the University of Nebraska Kearney. It was the first team-wide activity of the new season for THS, which sent a school-record eight wrestlers to the 2012 Class 4A state tournament.
"(The camp) is a fun thing for the kids to go to and take away some stuff that will help them on the mat," coach Jeremy Goebel said. "The biggest thing is team camaraderie and just letting them get out on the mat and compete."
The camp, which included high school teams from Kansas, Colorado and Nebraska, featured speeches by college coaches, assistance from college wrestlers and several inters-quad duals. As a team, Tonganoxie went a combined 55-45 in nine duals and placed fourth in the team standings. Sophomore Asher Huseman, the Chieftains' only state medalist in 2012, led the way with a perfect 8-0 individual record.
Other state participants on hand were seniors Julius Coats (5-1) and Thomas Miller (8-2). Junior Joe Wolf also made the trip, but did not compete due to a knee injury.
THS may have posted a winning record at the camp, but according to Goebel, the win-loss column is hardly a top priority during the offseason.
"It's all about mat time," he said. "Is every matchup perfect? No, but is it an opportunity to get better on the mat? Yes."
At the end of the camp, a wrestler from each team was presented with a Legitimate Tough Guy award. The Chieftains' recipient was sophomore Garrett Martin, who competed in a team-high 19 matches, including a span of nine in just three duals.
"That's one reason (Martin) got the LTG award," Goebel said. "Every time he got off the mat, he asked what he could do to get better."
Wrestlers will continue preparations for the upcoming season for the remainder of the summer. Several athletes are participating in the school's summer weights program, and Goebel said he'll continue to have open mat sessions during the offseason.
2012 camp participants
Garrett Martin
Steven Stockman
Asher Huseman
Seth Wolf
Gus Dent
Julius Coats
Thomas Miller
Luke Carey
Zeke Kissinger
Joe Wolf