Tonganoxie youth wins top award at
NASA

Space Academy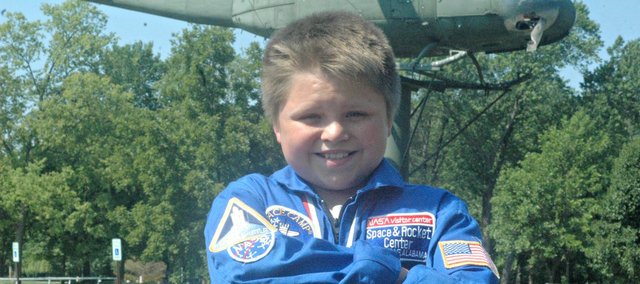 Astronaut, firefighter, police officer, teacher.
They're usually at the top of career lists when youngsters are asked what they want to be when they grow up.
Jackson Willis fits into that category. He hopes to be an astronaut someday — or at least work for NASA.
Jackson participated June 3-8 at Space Academy in Huntsville, Ala., instruction open to youths entering grades seven to nine. Jackson will be a seventh-grader at Tonganoxie Middle School starting next month.
"I've always wanted to go to space camp because it sounded really cool," Jackson said.
The Tonganoxie youth said he enjoyed all the simulators and information he learned at the camp. His presence there also made an impression on the adults who served as crew leaders.
Jackson was selected for the Right Stuff Award out of 150 participants. It's the top award given out at the U.S. Space and Rocket Center in Alabama.
"When they announced he was getting this award, they could not pronounce Tonganoxie," said Peachez Joles, Jackson's grandmother, with a laugh. "They really messed it up."
The award is named after Tom Wolfe's 1979 book "The Right Stuff" and given to an academy participant who is exemplary in leadership, teamwork and technology during the week.
The academy attracted participants from across the country and other countries, including India and Canada. Jackson said. And one of the crew leaders was from Australia, he said.
Jackson learned about space history and played Space Bowl, in which teams quizzed. Jackson correctly identified what the acronym SSME signifies (Space Shuttle Main Engine).
There were other activities that required physical work, such as creating models underwater, as being underwater is the closest simulation to zero gravity.
Jackson did get to experience various simulation equipment, but not the aircraft that shoots thousands of feet in the air and right back down.
"We weren't allowed to go on the Vomit Comet," Jackson said. "The Vomit Comet's only for the real astronauts, though."
In the process of the camp, Jackson became friends with participants who are cousins from Colorado and twins from Kentucky with whom he stays in touch by phone and Twitter.
Asked whether he has plans yet for where he would like to attend college, Jackson had a response.
"Harvard," he said, followed by a thumbs-up and a smile. "No, I don't know."
"If there's funding for NASA, I wouldn't mind working for them," he said. "I wouldn't mind being an astronaut."
If that doesn't pan out, he hopes to work at a museum, "maybe as a curator," or teach history or science at the high school or college level.
"A lot of people say I should teach history," he said.
Jackson's trip to Alabama also morphed into an opportunity for his mother and grandmother to take a trip, with three other friends in tow.
"And when you're with six girls going blah, blah, blah, ha, ha, ha, ha, it's terrible," Jackson said.
The "girls" also made a trip to Savannah, Ga., while Jackson was learning about space. The company might not have been all bad, though. There's a space camp being offered in Florida, which again might serve as a getaway for the women.
Jackson might just learn that he has the "right stuff" again in Florida.
"I just want to work for NASA," Jackson said. "I don't care if I'm an astronaut or not. I wouldn't mind just getting on the list of NASA employees."