Whitledge headlines local All-Area selections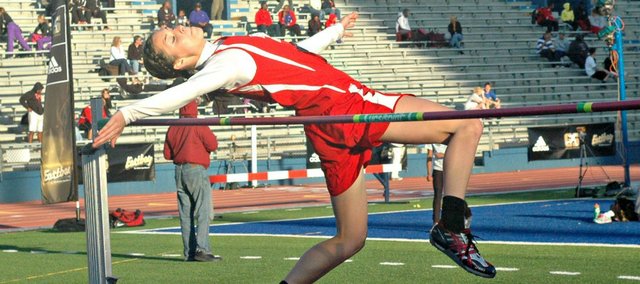 During her junior track and field campaign, Tonganoxie High's Jenny Whitledge practically re-wrote the school's record book.
By the end of the 2012 season, she was the Chieftains' record holder in the high jump (5-6.25), long jump (17-8.5), 300-meter hurdles (47.1) and 100-meter dash (12.4). She qualified for state in all four events and capped off the year with her second-straight state title in the high jump.
Whitledge's efforts didn't go unnoticed by the local media, as she was selected to the 2012 Lawrence Journal-World All-Area team. It was her second consecutive first-team selection.
Fellow THS high jumper Haley Griffin earned an All-Area honorable mention. She wrapped up her sophomore season with a second-place finish at state.
On the boys side, 2012 Chieftain grads Tyler Stockman, Patrick Rachford and Dylan Jacobs each received honorable mentions. Stockman qualified for state in the discus, Rachford in the 3,200-meter run and Jacobs in the high jump.
McLouth High also had a pair of honorable mentions in incoming seniors Dakota Cop and Marc Walbridge. Cop was the Bulldogs' only state qualifier in field competition (triple jump), while Walbridge competed in the 1,600-meter run.
All-Area girls soccer
A pair of Chieftains earned spots on the Journal-World's All-Area soccer team, as 2012 sophomores Aly Bartholomew and Emily Soetaert each garnered first-team honors. Bartholomew, a defender, and Soetaert, a forward, each played pivotal roles in a landmark 2012 season that ended with THS' first-ever appearance in the Class 4-1A state tournament.
Both players were named to the Kansas Soccer Coaches Association All-State second team earlier this summer. Sophomore goalkeeper Emma Stilgenbauer also received an All-Area honorable mention.
All-Area softball/baseball
In recent years, it hasn't been uncommon for McLouth High to earn multiple All-Area softball selections. The Bulldogs continued that trend this year, as 2012 grad Kendra Leach and sophomore Konner Patterson each earned first-team selections.
In addition to being MHS' top pitcher, Leach posted a .672 batting average with 16 runs batted in and two home runs. Patterson hit .646 with 42 RBI.
McLouth's Emily Welsh earned an honorable mention in her final high school season. Tonganoxie High honorable mentions were 2012 grads Kailan Kuzmic and Makayla Leslie, as well as sophomore Caly Ingle-Maxwell.
THS sophomore Shane Levy earned an All-Area baseball honorable mention after leading the Chieftains in almost every offensive category.