All-Star Game sparks stories of baseball's past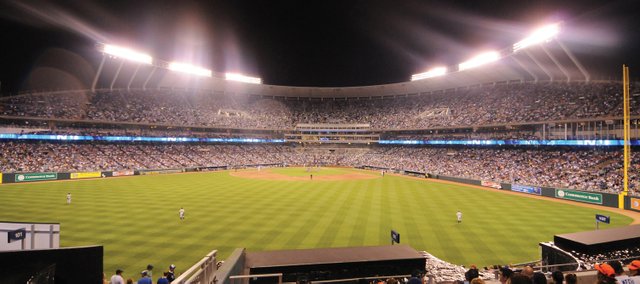 What's your story?
One doesn't need to look far to find a web of baseball tales. Whether it's nostalgia over a high school or college championship, a grandfather's story of playing in the majors, or an encounter with a legend, we'd love to hear your stories. Send them to smontemayor@theworldco.info.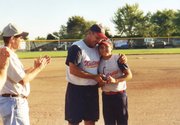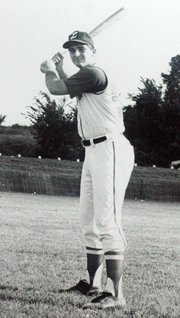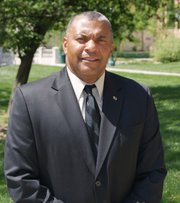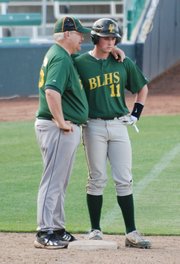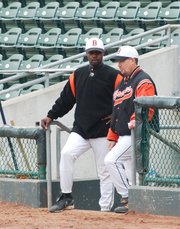 A morning in mid-June, and it may as well be evening in April, or dusk in Colorado at the end of May or, for that matter, later that same June day in Emporia, a two-hour drive from Shawnee.
That's where Billie Thompson will be. A police officer at Shawnee Mission Park going on 29 years, Thompson is off work today, and he's going to watch baseball.
In less than a week, he'll help drive his eldest son, Jake, to Bowling Green, Ky., where he'll join the Hilltopper baseball program after two years pitching at Iowa Western Community College. A little more than a month later, Thompson will take his youngest, Ty, to report for his freshman year at the Missouri Institute of Science and Technology, where he, too, will pitch.
When his sons leave, they'll take with them the same things Billie will keep. Scores of stories, each delivered by rattling off the names of supporting characters: coaches, teammates, family, fans.
Stories like this one: When Billie was 7 and growing up in Pratt, he was asked to help fill in on a men's recreational team low on players that week. ("And that's when I got to hit my first home run," Thompson said. "Hit it to right field — which I never did again.")
Or stories like the one that helps explain why we're here in the first place talking about baseball, why Thompson is wearing an Iowa Western National Champions T-shirt and is about to drive and watch Ty pitch on a summer ball team. Billie was All-State in football and bounced between Pratt Community College, Fort Hays State University and the University of Hawaii before he came back to Kansas. Within days, he'd go from 80-degree weather to being snowed in at Emporia State on a visit over the holidays. "I fell in love with Emporia," he said, without an ounce of sarcasm. He was about to commit to play both football and baseball, but the football coach offered a full scholarship.
"I drop baseball, they win the national championship and we win three games in football," Thompson said.
His boys, and we'll get to them soon, would never play football.
•••
This being summer, Philip Hannon is sitting in his office thinking about recruiting, thinking about who next will don a Baker University baseball cap. He's just concluded his 12th season as head coach of the Wildcats. Their playoff chances looking up this year, the Wildcats lost their final 12 games, eight of them by a margin of just one run.
An error here, a home run conceded there.
"Just really freakish things," he said. Baseball in so many words.
Baseball has kept Hannon a part of the Baldwin City community for three decades now, his wife Charlene by his side and four children coming up out of their household (three of which attended the same university.)
He grew up in Lexington, Mo., a football town. His high school didn't even have a baseball team, so Hannon would spend his summers baking in the heat in front of family, friends and fans at a local ballpark.
Still, it was his football proclivity that earned Hannon a scholarship to Baker. Baseball still found him. Keith Hackett, Baker's head baseball coach, was also the football team's offensive line coach.
"Heard you played summer baseball," was something like how it started one day. "We're down in numbers this year. Won't you come out and try this college baseball thing?"
Soon after, Hannon joined a freshman-laden club, comprised of what he'd call some "darn good baseball players."
After his eligibility was up, Hannon worked out for major league scouts on diamonds in Chicago, Tulsa, Joplin. He played five years for the Chicago Cubs' minor league organization, making it all the way up to AA ball. After a while he transitioned into a player/coach and then a full-time outfield instructor.
From 1992-1995, Hannon shuffled between minor league coaching jobs before he returned to Baldwin City to spend more time raising his children. After bouncing between non-hardball occupations for four years, Hannon received a call from Baker's athletic director, asking Hannon to return to his old team as manager, the job he's now held for more than a decade.
"It ended up being real good for me," he said.
Hannon's mindset has been that of the .300 hitter. Making an out on 70 percent of your at-bats is still good for the Hall of Fame in this game. So while a conference title has eluded Hannon's Wildcats over the years, he doesn't take for granted his program's 87 percent graduation rate, or players like Vidal Nuno, now working his way up as a pitcher in the New York Yankees organization, or those holiday weeks that find Christmas cards waiting in Hannon's mailbox, concealing photos of former players who've grown to be friends and fathers.
"You have to understand that you're going to fail more times than you will succeed," Hannon said. "Savor those moments you succeed because they don't come around too often."
•••
When Billie Thompson started a family in Shawnee, youth soccer was the sport to play. His boys played for a while before finding a baseball program through the local parks and recreation department. Each worked their way on up from tee ball to machine pitch and, finally, kid pitch. Soon enough, Billie would be coaching, too, and helped manage Ty's LePeep Mustangs to the 2003 national championship tournament in Council Bluffs, Iowa.
Each morning they'd be up and on a field by 6 a.m. "We had a routine going," Thompson said. "Every game in the tournament we ran through just about everybody."
But in the first game of the final round, the Mustangs lost. Though they were still in the hunt, Thompson had to return to work and wouldn't be able to see the title run through.
He ribbed them for that, and before he took his exit, added: "I'm going to leave. You guys win me a game. I don't want you to come back to Kansas City unless you win me a national championship."
By the time he reached Mound City, he got the call from his wife.
•••
Read more about the Braves
More Bonner Springs baseball milestones can be found here.
Say, Coach, you still have the video of my home run?
Bonner Springs alum Mike Pier encountered his old baseball coach Mike Moulin, now the high school's vice principal, at a gas station a few weeks ago. The sight of each other stirred old memories.
Memory's a funny word. It suggests something that needs recalling. And when you play at Kauffman Stadium, how can you ever forget?
On three occasions — in 2003, 2004 and 2006 — rivals Bonner Springs and Basehor-Linwood met in the Frank White Classic, a high school baseball showcase held for 10 years at the home of the Kansas City Royals.
The Bobcats made short work of the Braves in their first meeting, in front of their largest audience until then: 1,100 spectators. Basehor-Linwood ran through Bonner Springs, 16-3. David Svoboda, Basehor-Linwood's assistant head coach in 2003 and head coach from 2004-10, had built a philosophy of winning with pitching and defense, something he perfected while leading Junction City to state title contention in the late '90s. These Bobcats had those tools, but their bats were just so hot, too.
"They flat out mashed," he recalled. "They could score 15 to 20 runs on you without trying."
The Braves cut it closer the next year, rallying from a 6-0 deficit before Bobcats second baseman Michael Armstrong turned an unassisted double play to silence the Braves' attempted turnaround. Four years later, Armstrong was killed in an automobile accident at just 21 years old. Svoboda still has a photo of himself using the Kauffman Stadium bullpen phone, Armstrong peering over his shoulder with a look of mischief wiped across his face.
"Looking back now means even more to me," Svoboda said. "Little did we know how fragile life can be. He's not even here now just scant years later to share that."
It was on that April afternoon, captured in that photo, midway through their game, that Pier got every bit of Josh Ishmael's pitch, blasting it eight rows north of the left field fence.
"Every kid dreams of hitting a home run in a major league stadium," Moulin said. "He hit a bomb."
Two seasons later, the Braves returned to finally end Basehor-Linwood's Kauffman Stadium streak. The Braves finally got theirs, a 7-2 victory and a chance to pose in front of the scoreboard for photos.
It was a series that heightened a rivalry already circled on calendars in both towns. Friendly, yes, but a desire to win, and win decisively, did not relent.
"We flat out wanted to beat them," Svoboda added. "We wanted to beat them like a drum every time we were there."
At the last Frank White Classic the Bobcats played, a few seasons after the Braves stopped playing in the game, Svodoba stood in the third base box with tears in his eyes.
"I realized it was the end of a run — a real special thing to be a part of a program that had the opportunity to play over there," he said. "The kids may not necessarily have gotten it or thought of it in the way Rick and I appreciated it. But most of these kids today didn't see the Royals when they were good, when the place just hopped and the Royals were right."
Moulin never could find that video of the home run. Just as well. How could it show how lush the sunlit field was, how crisp the air and just how hard Mike Pier crushed that pitch?
•••
Jake Thompson left Iowa Western with school records in games won (19) and shutouts (4). He also leaves a champion.
On Memorial Day weekend, Thompson's traveled to Grand Junction, Colo., longtime site of the Junior College World Series. Thousands turn up, with large swaths adopting their own teams well ahead of time. Iowa Western being a perennial contender, one boy convinced his family to take him on a road trip to Council Bluffs just to see the school.
A woman in her 70s, whose daddy once owned the grocery store nearby, had seen enough games at Suplizio Field to know after watching Iowa Western lose 5-2 to San Jacinto, the same Texas community college that Roger Clemens and Andy Pettite attended, that Billie's son's team needed to play them again.
"That was the championship game we just watched," she told him. And so it was.
Six days later, Iowa Western clinched the championship in the rematch. The stands cleared as pirate-dressed fans and players' families crowded the field.
Children ran up for autographs and memorabilia. Billie caught a glimpse of a young boy approaching Jake, asking for his hat.
Jake shook his head, he couldn't part with the hat.
But he tied his cleats together and tossed them to the boy.
"Mom, mom!" the boy cried "Jake Thompson gave me his cleats!"
The Thompsons cried, too.
•••
It was Phil Thomas' small stature that led him away from the gridiron and hardwood and toward his true passion for America's pastime as a boy in Kansas City, Kan.
"I was kind of used as a tackling dummy when it came to playing football, and they were all taller than I was when we played basketball, so basically, I had a wall and a glove," Thomas said. "While everybody was playing football, I was playing catch with myself."
What started as a neutralizer eventually became a forte, as Thomas developed into one of the premier baseball players in the state. After moving to Tonganoxie as a teenager, he flourished on Ban Johnson and American Legion teams in Leavenworth. He played in both leagues at once, logging as many as 100 games per summer.
Thomas had several notable pitching performances during his teenage years, including three consecutive no-hitters as an eighth-grader, but another game sticks out in his mind as the most memorable. Pitching against a Marysville squad headlined by Junior Riggins, brother of Kansas University football star John Riggins, Thomas didn't allow a hit in the game, but suffered a 1-0 defeat.
"(Junior) was just as fast as John Riggins, and he could hit," Thomas said. "I said I wasn't going to let him hit a home run off of me, so I pretty much pitched around him and walked him. On one pitch, he was on second, then the next pitch he was on third, then somebody popped up to the outfield. He went home, and I got beat 1-0."
Thomas' talents didn't go unnoticed by professional scouts, as he was pursued by the San Francisco Giants as a Tonganoxie High senior in 1966. However, rather than accepting $500 to play in a three-month league with the Giants' rookie affiliate — the Magic Valley (Idaho) Cowboys — Thomas accepted a scholarship at the College of Emporia, where he pitched for two years. He was inducted into the school's athletic hall of fame in July 2010.
After graduating from college and a three-year term in the Army, Thomas returned to northeast Kansas.
He continued playing baseball for a few more years, including a semi-pro stint with the Halstead Cowboys but eventually got married and hung up his cleats for good. He still lives in Tonganoxie.
•••
We still haven't gotten to the day Billie Thompson coached his son Ty's little league team against George Brett and his son. Billie's team won, 2-1, that day, and Brett signed a ball for his boy.
"I never will forget that," Thompson said.
Or the story of when Jeff Montgomery presented Billie with the Good Sportsmanship Award at 3&2 Baseball in 2005, and asked Billie, "Do you really know every umpire's name?"
Yes, he replied. He keeps a ledger of them.
Oh, sure, there are more stories. And Ty and Jake will no doubt have their share of contributions to family lore.
Did we mention that in their day, their grandfather and granduncle each played for the minor league affiliates of the Cardinals and Dodgers, respectively?
They may or may not realize it, but their memories and ecstasies and disappointments either coincide with or echo those of a kid up the interstate filling up his gas tank, or a coach sitting in his office, thinking of the days he toiled in the sun, dreaming.
They're all connected, all-stars in their communities, woven together in baseball's infinite web.
— The section on Phil Thomas was written by The (Tonganoxie) Mirror's Justin Nutter, jnutter@theworldco.info.