Irvine, Milner pace T-Bones in win over Sioux Falls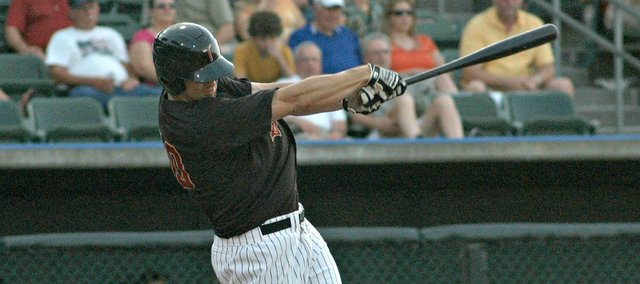 Kansas City, Kan. — One day removed from one of their roughest offensive performances of the year, the Kansas City T-Bones were in search of a spark at the plate. Instead, they found an explosion.
Four T-Bones hit home runs in a 13-1 drubbing of the Sioux Falls Pheasants Thursday at CommunityAmerica Ballpark.
"We talked during batting practice today about trying to be more aggressive," manager Kenny Hook said. "We think we're a better offensive club than what we've shown in the last couple games, so it was nice to see them respond like that."
Kansas City (26-21) went in front early when designated hitter Brandon Jones drove in left fielder Justin Bass on a sacrifice fly. Third baseman Enrique Cruz doubled the lead later in the frame with an RBI single.
The Pheasants (25-20) got one run back off starter Luke Irvine in the second, but that's all they could manage against the T-Bone right-hander. In just his third start of the year, Irvine limited Sioux Falls to one run on three hits in seven innings. He finished with nine strikeouts — the most by any Kansas City pitcher this season.
"I have a great deal of confidence (in Irvine), and this is the type of outing I think you're going to see more of him as he gets more comfortable in the starting rotation," Hook said. "When he's on and hitting his spots, he can be tough."
The T-Bones made it 4-1 in the home half of the inning, thanks to a two-run home run by center fielder Gus Milner. It was the fourth homer of the season for Milner, who went 3-for-5 with a double and three RBI.
"I've been trying to get myself going offensively to help the ball club," Milner said. "I've been trying to swing at good pitches and today, I put a little more barrel on the ball and good things happened."
The offense came alive again in a seven-run sixth inning, highlighted by a three-run shot off the bat of Cruz. Jones and right fielder Ray Sadler capped off scoring with back-to-back solo homers in the ninth.
The victory inches Kansas City closer to Sioux Falls in the American Association wild card standings. Hook's squad could tighten the race even more with a victory in the series finale at 7:05 p.m. Friday.
"We don't play them again (after Friday), so you never know how it's going to play out," Hook said.
Score by inning
Sioux Falls 010 000 000 — 1 5 0
Kansas City 220 007 02X — 13 15 1
SIOUX FALLS: 2B — J. Kaplan. 3B — None. HR — J. Taylor. RBI — J. Taylor. E — None.
KANSAS CITY: 2B — G. Milner, D. Goodwin. 3B — None. HR — G. Milner, B. Jones, R. Sadler, E. Cruz. RBI — J. Bass, G. Milner 3, B. Jones 2, R. Sadler 2, E. Cruz 4, D. Goodwin. E — G. Milner.
WP — Irvine (1-0). LP — M Michael (5-3). S — None.