As Tonganoxie teen, Thomas flourished on baseball diamond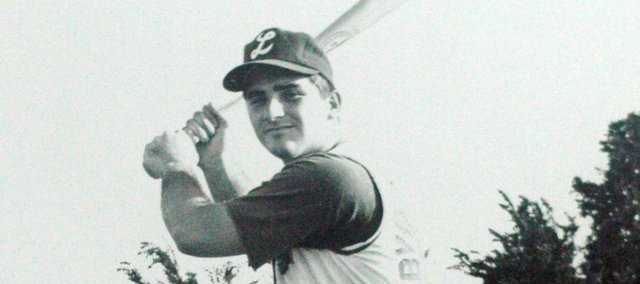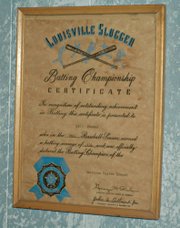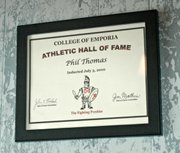 As a young boy in Kansas City, Kan., Phil Thomas learned early that he had a knack for sports. Whether he was on the football field, basketball court or baseball diamond, he could often be found competing against other neighborhood kids.
However, football and basketball were a bit of a struggle for Thomas, who was often younger and smaller than the kids he played against. But, oddly enough, it was his small stature that led to his true passion for America's pastime.
"I was kind of used as a tackling dummy when it came to playing football and they were all taller than I was when we played basketball, so basically, I had a wall and a glove," Thomas said. "While everybody was playing football, I was playing catch with myself."
What started as a neutralizer eventually became a forte, as Thomas developed into one of the premier baseball players in northeast Kansas. After moving to Tonganoxie as a teenager, he flourished on Ban Johnson and American Legion summer teams in Leavenworth. Tonganoxie didn't have an American Legion team until after Thomas graduated from Tonganoxie High in 1966, but he played for both Leavenworth teams at once, logging as many as 100 games per summer.
While admitting he had limited knowledge of other sports, he also played football and basketball during his high school career. He was the Chieftains' starting quarterback by his senior year.
"When I got to Tonganoxie, I didn't know anything about football or basketball," Thomas said. "I did play a little bit of sandlot (football) in Kansas City, but I didn't know anything about basketball. But back in those days, that's just what you did when you were in high school; you played sports.
"I played baseball with people from Lansing and Immaculata, then we played football against each other."
During his time with the Leavenworth American Legion squad, he was coached by Walter "Wolf" Montgomery, who pitched in the St. Louis Cardinals organization for five years. He also shared the field with Mike Torrez — a Topeka native who went on to enjoy an 18-year Major League pitching career — when both were selected to the Kansas American Legion All-Star team.
Thomas played Legion ball alongside fellow 1966 THS grads Terry Wyrick and Dave Huebner. The group, dubbed "The Tonga Trio" by former Leavenworth Times sports reporter John Tibbetts, made countless trips to and from Leavenworth for practices and games.
"We were fortunate because our parents would let us drive their pickup trucks up there," Huebner said. "Half the time, (Thomas) would drive his dad's pickup and the other half, I'd drive my dad's pickup. We had a great time playing with those other guys in Leavenworth and getting to know them."
Thomas had several notable pitching performances during his teenage years, including three consecutive no-hitters as an eighth-grader, but another outing sticks out in his mind as one of the most memorable. Pitching against a Marysville squad headlined by Junior Riggins, brother of Kansas University football star John Riggins, Thomas didn't allow a hit in the game, but suffered a 1-0 defeat.
"(Junior) was just as fast as John Riggins, or probably even a little faster, and he could hit," Thomas said. "I said I wasn't going to let him hit a home run off of me, so I pretty much pitched around him and walked him. On one pitch, he was on second, then the next pitch he was on third, then somebody popped up to the outfield. He went home and I got beat 1-0."
In addition to his pitching skills, Thomas was also lauded for his work at the plate. That was made evident in the 1967 season, when he led the American Legion League with a .434 batting average.
As if his pitching and hitting weren't enough, he was also capable of stepping into other spots on the field if necessary.
"When (Thomas) wasn't pitching, he never left the field because he was playing other positions," Huebner said. "He was a tremendous athlete. He had great physical talents and just a tremendous arm."
Thomas' talents didn't go unnoticed by professional scouts, as he was pursued by the San Francisco Giants as a high school senior. However, rather than accepting $500 to play in a three-month league with the Giants' rookie affiliate, the Magic Valley (Idaho) Cowboys, he accepted a scholarship at the College of Emporia, where he pitched and played defensive end on the football team for two years.
Nicknamed "Tongo" by his teammates, Thomas led the Fighting Presbies baseball team to a combined 21-1 record in two seasons, which included back-to-back league championships and an appearance in the 1967 NAIA regional tournament. He was inducted into the school's athletic hall of fame on July 3, 2010.
After graduating from college, Thomas spent one season with the Halstead Cowboys — a now-defunct semi-pro team near Hutchinson. His baseball career was temporarily put on hold the next year when he left Kansas to serve a three-year term in the Army, which included a tour of duty in Korea.
After returning to his home state in 1972, Thomas finished his playing days with one more season in Leavenworth — this time as a member of the Pony Express League. After hanging up his cleats for good, he went to work for the Simmons Mattress Company, from which he retired in 2006 after 35 years of service. He currently resides west of Tonganoxie.