Core knowledge: districts prepare for new educational standards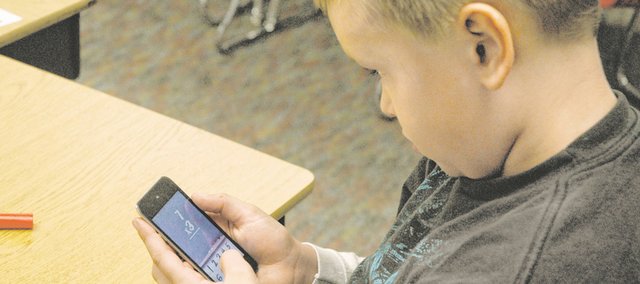 Beginning in August, classroom learning is going to have a different look at most Kansas schools.
Some concepts will be taught earlier than in the past. Teachers will focus on fewer concepts over the year, teaching those they still cover with more depth. And higher-level reading skills soon will be expected at each grade.
Why?
New standards create some challenges for districts
New state educational standards will not be a challenge just for the students — school districts may find hurdles to implementation.
The math and English Language Arts standards, called the Common Core State Standards, have been adopted by Kansas and 44 other states, and students will be tested on them in the 2014-15 school year. So in the next three years, school districts across the country must find a way to include the new standards in their curriculum, and local districts have already run into some difficulties.
The Basehor-Linwood school district started looking at the Common Core language arts standards two years ago and hit a wall, said Mike Boyd, assistant superintendent for Basehor-Linwood USD 458.
"At that time there was not a lot of information about the CCSS, so it was like finding your way in the dark," he said.
More help has come from the state in the last year, but there are still challenges.
"This is not like any curriculum adoption we have ever done before," Boyd said. "This is a complete and total different line of thinking and administering a curriculum. This curriculum requires a district to unpack the standards, which means to take that standard and look at it across all curricular areas, not just the specific subject it addresses."
Boyd said textbooks his district currently uses don't align with the standards, and while it has adopted new language arts textbooks for this fall that will align with the standards, there isn't funding scheduled for new math textbooks for another three years — so math teachers especially will have to adapt.
Paul Dorathy, superintendent for Baldwin USD 348, said smaller districts like his have a greater challenge when trying to plan for this curriculum change.
"The teachers have to be very involved in our district; we don't have a lot of administrative staff to address a significant change like this," he said.
Tonya Phillips, director of educational programs for Tonganoxie USD 464, said one benefit of Common Core is that districts in almost all states are going through the same process of implementation.
"So we could call a district in Iowa to learn how they are working Common Core into their curriculum," she said.
In Bonner Springs, Steve Cook, principal at Clark Middle School, said teaching the new Common Core standards, while at the same time teaching the current state standards for state assessments, would be like teaching two years' worth of curriculum in one year.
Kim Barney, director of curriculum, instruction and assessment in De Soto USD 232, agreed that it would be difficult, but said planning was key.
"We have outlined time lines and plans for this initiative, and we will continue to seek input from teachers and other stakeholders as we evaluate our implementation plan, and we will make adjustments as needed," Barney said.
Because in late 2010, Kansas adopted the Common Core State Standards Initiative, an effort to focus on conceptual learning and raise the standards of what students are expected to learn at each grade level across the board for all states. All but five states — Alaska, Minnesota, Nebraska, Texas and Virginia — have now adopted the standards.
Students will be tested on these standards in the 2014-15 school year, so most state districts have been creating implementation programs for introduction in the classroom this school year.
"In addition to focusing on knowledge and skills, it also focuses on conceptual understanding," said Jeannette Novo, assistant director with career standards and assessment services for the state department of education. It's a big shift from what schools have been doing. "It's a move away from the accountability effort of just trying to have students pass an assessment, to having them really understand constructs and concepts."
What is Common Core?
The Common Core State Standards provide fewer, clearer and higher standards for each grade level in mathematics and the english language arts, including social studies and science, defining the knowledge and skills students should have within their kindergarten through 12th grade education.
The Common Core State Standards Initiative was coordinated by the National Governors Association Center for Best Practices and the Council of Chief State School Officers. The standards were developed in collaboration with teachers, school administrators and experts.
The initiative's website, corestandards.org, states the standards "are designed to be robust and relevant to the real world, reflecting the knowledge and skills that our young people need for success in college and careers."
Robert VanMaren, superintendent in Bonner Springs-Edwardsville, recently told his school board that the Common Core is the first step in making sure students can compete in the rapidly changing world as schools start teaching 21st century skills.
"We want kids to know how to read, how to write, how to do math, but we also want them to know how to get along, how to solve problems, how to create a quality product … how to read vast amounts of information and compile it into something usable," he said. "It's not being good at Jeopardy, it's being good at life."
A rigorous education
The catchphrase for Common Core is "rigor" — a term referring to creating an environment that allows all students to learn at high levels.
The standards are defined as "Rigorous content and application of knowledge through high order thinking skills and high level cognitive demands including reasoning, justifying, synthesizing, analyzing and problem-solving."
"The main difference is, really, we used to try to teach a lot of things, and teach them in a quick manner," said Tonya Phillips, director of educational programs for Tonganoxie USD 464. "We would try to give students a little touch of everything. Now, we will teach fewer concepts, but teach them deeper."
Some concepts also will be taught in earlier grade levels than they have been previously, so teachers used to teaching certain concepts in certain grades may take some time to adapt.
"That's a hard shift for teachers, because they're like 'Well, I've always taught patterns,'" Phillips said.
Implementation plans
Most districts began training their staff in Common Core by last spring, but each is taking a different approach to implementing the standards in the classroom.
For example, in De Soto USD 232, the district decided to focus on the implementation of the math standards first, starting last year in grades kindergarten through fifth, according to Kim Barney, director of curriculum, instruction and assessment. This year, the district will implement the math standards in sixth grade only, then the higher grades over the following three years.
Barney said the district planned to implement language arts standards in 2013-14.
On the other end of the spectrum, Mike Boyd, assistant superintendent for Basehor-Linwood USD 458, said after studying the language arts standards for the last year, the district will start language arts implementation this fall for all grades. It is now working on the math standards for implementation this spring, and it plans to implement the standards in social studies and science in the fall of 2013.
In the Tonganoxie district, Phillips said last year they implemented some of the standards in kindergarten and first grade, because those students won't ever be tested on the current state assessments. The district will continue to study the standards and have partial implementation this year, with full implementation in the 2013-14 school year.
Both Shawnee Mission USD 512 and Bonner Springs-Edwardsville USD 204 are introducing the math and language arts standards for kindergarten through second grades this year. Third through 12th grades will see some Common Core standards this year, but they will stay focused on skills needed for the current state assessments. Full implementation for these grades is set for the 2013-14 school year.
Baldwin USD 348 has a similar plan but will not have the partial introduction of Common Core for third through 12th grades. The district instead will continue to plan for full Common Core implementation at those grades for 2013-14.
Preparing parents
Most district officials said that parent support would be important as the Common Core standards reach the classroom.
Barney said last year in the De Soto district, they spread the word in newsletters, had parent forums about the changes in math curriculum, and created a frequently asked questions page on the district website.
"We recognize the important role parents play in their children's education and we look forward to continuing to partner with parents to ensure all students are successful," she said.
But communication with parents about Common Core is just beginning for some others.
"We haven't sent too much out to our parents yet. They know it's coming, but they don't know a whole lot about it," Phillips said.
The Tonganoxie district purposely hasn't dispersed too much information, she said, because they didn't want to try to inform parents about something they didn't fully understand themselves. Now they plan to send out pamphlets giving the new standards of what students must learn in each grade level.
Boyd said Basehor-Linwood parents will first learn about the standards this fall as students see them in the classroom.
"This will be a much more difficult program than we have had in the past because there is more required of the students and at an earlier grade level," Boyd said. "The parents are going to have to take a more active role in schools and help their students at home with homework and the concepts."