County commissioners again considering emergency vehicle for Basehor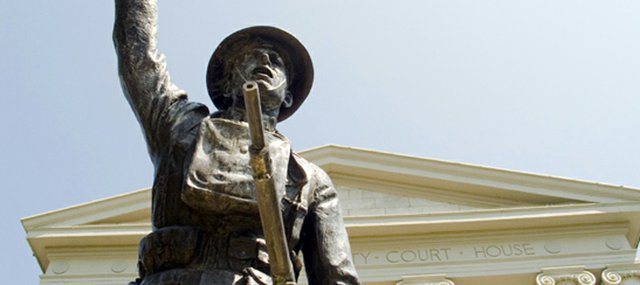 Leavenworth County Commissioners will decide again this year whether to spend more than $300,000 to add an paramedic vehicle stationed in Basehor that could cut down emergency response times.
Commissioners denied a similar request from Leavenworth County Emergency Medical Services last year, saying the county couldn't afford the expense in its 2012 budget.
A budget request from EMS director Jamie Miller calls for a "paramedic assist response" vehicle to be stationed in Basehor, staffed by three paramedics on rotating shifts. The vehicle would be smaller than an ambulance and be unable to transport patients, but it would allow a paramedic to arrive earlier in case of emergency in Basehor and surrounding areas, before an ambulance arrives.
It takes ambulances an average of about 12 minutes to arrive at an emergency scene in Basehor from the nearest EMS station in Tonganoxie, Miller said. That's compared with an average of about 5 minutes in Tonganoxie. And those times can increase if the Tonganoxie-based ambulance is already on a call, or if an emergency occurs in a more rural part of southern Leavenworth County.
EMS has three stations in the county, with two in Leavenworth along with the Tonganoxie location. About two-thirds of the department's calls come from the northern half of the county, but it may not be that way for long, Miller said.
"What we're seeing is, it's starting to shift a little," he told county commissioners during 2013 budget talks Wednesday.
Commissioner John Flower, who represents the county's southern portion, said county population trends point toward more need for emergency services there.
"I would say that demand has grown somewhat exponentially," Flower said.
The vehicle would likely be housed in space rented from the Fairmount Township Fire Department in Basehor, Miller said. The estimated total cost of the vehicle, staff and rent would come to about $320,000 — projected as about 0.6 of a mill in property-tax terms.
Commissioners said Wednesday they would continue to consider the emergency vehicle as a possible addition to the 2013 budget, which they'll continue to examine the rest of this week and into next week.
"I think that's one of the most worthy projects," Commissioner Clyde Graeber said.
The emergency vehicle is one of a number of budget enhancements requested by different county departments, totaling about $2.5 million. Those enhancements would be in addition to a base budget presented to commissioners by County Administrator Pat Hurley that would reduce the county's mill levy by about two mills.
Thus, Hurley said, commissioners can choose to fund some of those enhancement requests without increasing property tax rates, perhaps even transferring money from reserve funds to pay part of the bill.
"I've tried to design it in a manner in which they would not necessarily have to raise the mill levy," Hurley said.
The commissioners' final budget decisions should come next week, Hurley said, possibly as soon as Monday.