Sokker Kamp nearly doubles in size in second year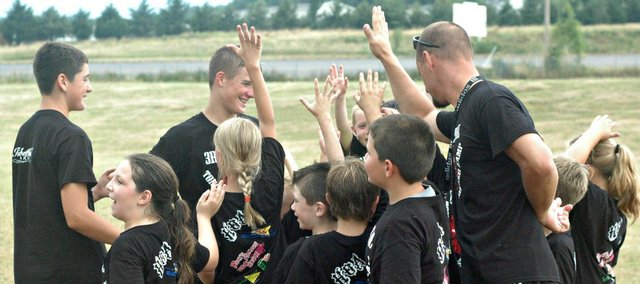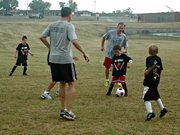 The start of the 2012 soccer season is still several weeks away, but the Tonganoxie High practice field got plenty of use this week.
Twenty kids ranging from kindergarten to seventh grade laced up their cleats for the second annual youth Sokker Kamp, which was hosted by Tonganoxie High boys coach Brian Kroll. Attendance nearly doubled from last year's enrollment of 11, which Kroll attributed to the achievements of both high school programs last season. The Chieftain boys and girls teams each won regional titles in 2011-12 and the girls advanced to their first-ever state tournament.
"I would say that overall, given the direction of Tongie soccer, it's going in the right direction," he said. "With the success from the boys team and the success from the girls team, it's going to translate. When you have that kind of success, people start to flock to it."
Kids spent the week focusing on the fundamental aspects of the game, including passing, dribbling and other ball handling drills. Though several of the camp's participants also play in recreational leagues, Kroll emphasized the importance of mastering the basics at an early age.
"What I want the younger kids to take away from camp is a good base foundation of the fundamentals, as well as a good, organized way of setting up the field and knowing it," he said. "If you can get on a small-sided game, if you can get two or three of those kids to know what's going on, then that's it. At a rec level, that's all you need. It will spread and grow. That's what I'm hoping for."
On the final day of camp, the kids welcomed their parents for a scrimmage. The hard work they put in throughout the week seemingly paid off, as they defeated the parent team by a goal.