Tidal Waves finish fourth at league championships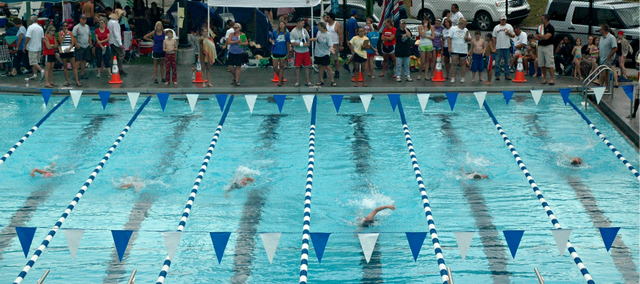 Photo Gallery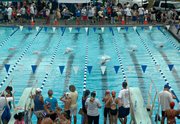 Tidal Waves at EKSL championships
The Tongie Tidal Waves swim team played host to the Eastern Kansas Swim League championships Friday at the Tonganoxie Water Park.
The Tongie Tidal Waves swim team capped off the 2012 season in familiar territory last week, finishing fourth at the East Kansas Swim League championships last Friday at the Tonganoxie Water Park.
The Tidal Waves, which had never hosted the league finals before, racked up 258 team points. Piper won the meet with a score of 365. Cloudy conditions and light thunderstorms led to multiple delays throughout the meet, but all events were completed by the afternoon.
"Considering all things, I think we did pretty good," coach Janet Falk said. "Even though we battled the weather a bit, things ran remarkably smooth. The weather was out of our control, but we had several parents helping."
Tongie combined for 13 first-place finishes, including two in relay competition. The 6-and-under team of Laikyn Bennett, Stella Bradley, Silas Kirchoff and Ellie Jackson won the freestyle relay, while the 8-and-under boys tandem of Gage Hayden, Cody Kesinger, Max Plaschka and Evan Shupe also bested the field in the freestyle.
Top individual finishers were Marisa Kearns, who won the freestyle, butterfly and backstroke in the girls 10-and-under division, and Abby Frye, who earned top finishes in the freestyle, butterfly, backstroke and individual medley in the girls 12-and-under division.
"We had several who did really top-notch," Falk said. "Abby did really good and Marisa came in first in all the events she competed in."
In addition to thanking the parents for their help throughout the season, Falk expressed her gratitude for the Tonganoxie Water Park staff for their assistance in running the team's three home meets in 2012.
Though there aren't any indoor swimming facilities available in Tonganoxie, Falk assured there are options for swimmers who want to continue honing their skills during the offseason.
"I'm going to share with the team members some of the things they can do," she said. "Lawrence has an indoor aquatic center and Bonner Springs has a YMCA if the kids want to continue swimming. I emphasize staying in shape because it's a lifelong sport you can really carry over."
Overall team results
Piper — 365
Leavenworth — 334
Turner — 326
Tonganoxie — 258
Bonner Springs — 106
Individual results
6-and-under mixed
First in freestyle relay — Laikyn Bennett, Stella Bradley, Silas Kirchoff and Ellie Jackson
6-and-under boys
Joseph Duvall — Sixth in backstroke
Garrett Edwards — Fifth in freestyle and backstroke
6-and-under girls
Laikyn Bennett — Fourth in freestyle, sixth in backstroke
Ellie Jackson — First in freestyle and backstroke
8-and-under boys
First in freestyle relay — Gage Hayden, Cody Kesinger, Max Plaschka and Evan Shupe
Second in medley relay — Ben Suber, Cody Kesinger, Gage Hayden and Evan Shupe
Gage Hayden — Second in individual medley, third in backstroke
Cody Kesinger — Third in freestyle and butterfly
Max Plaschka — Fourth in freestyle
Ben Suber — Fourth in backstroke
8-and-under girls
Second in freestyle relay — Raena Somolik, Emma Morgan, Emma Jackson and Kristi Chambers
Third in medley relay — Emma Morgan, Emma Jackson, Macy Geiger and Corinne Morgan
Kristi Chambers — Sixth in butterfly
Emma Jackson — Fourth in butterfly and individual medley, fifth in breaststroke
Emma Morgan — First in backstroke, third in freestyle
10-and-under boys
Third in freestyle relay — Hunter Calovich, Scotty Vick, Caden Hellman and Emmett Keene
Third in medley relay — Jack Duvall, DUstin Rhoads, Franklin Eason and Hunter Calovich
Hunter Calovich — Fourth in backstroke
Caden Hellman — Fifth in butterfly, sixth in freestyle and individual medley
Emmett Keene — Third in freestyle and backstroke, sixth in individual medley
Scotty Vick — Sixth in backstroke
10-and-under girls
Fourth in freestyle relay — Marisa Kearns, Corinne Morgan, Meron Hayden and Ally Sparks
Third in medley relay — Marisa Kearns, Ally Sparks, Kristi Chambers and Meron Hayden
Meron Hayden — Second in breaststroke
Marisa Kearns — First in freestyle, butterfly and backstroke
12-and-under boys
Second in freestyle relay — Gad Huseman, Patterson Starcher, Rylan Hellman and Zeb Huseman
Second in medley relay — Gad Huseman, Zeb Huseman, Devan Graham and Patterson Starcher
Holden DeGraff — Third in butterfly, sixth in individual medley
Alex Falk — Third in backstroke
Gad Huseman — Second in freestyle, butterfly, breaststroke and individual medley
Zeb Huseman — First in freestyle, second in backstroke, third in individual medley, sixth in butterfly
Patterson Starcher — Fifth in breaststroke, sixth in backstroke
12-and-under girls
Second in freestyle relay — Courtney Cruickshank, Rilee Garner, Samantha Koch and Abby Frye
Second in medley relay — Abby Frye, Isabella Behm, Macie Dawson and Rilee Garner
Courtney Cruickshank — Fifth in backstroke, sixth in individual medley
Abby Frye — First in freestyle, butterfly, backstroke and individual medley
Rilee Garner — Fifth in backstroke
14-and-under boys
Fourth in freestyle relay — Holden DeGraff, Devan Graham, Garrett Eason and Luke Falk
Fifth in medley relay — Garrett Eason, Braxton Shupe, Alex Falk and Luke Falk
Luke Falk — Fourth in individual medley, fifth in breaststroke
14-and-under girls
Fifth in freestyle relay — Kennedy Morey, Emily Chambers, Bailey Jackson and Sierra Graham
Fourth in medley relay — Niki Tallent, Joanna Filbert, Sierra Graham and Bailey Jackson
Joanna Filbert — Fifth in backstroke, sixth in individual medley
18-and-under mixed
Third in freestyle relay — Lee Maughmer, Emily Minear, Joanna Filbert and David Falk
Fifth in medley relay — Emily Chambers, Mitch Brock, Kennedy Morey and David Falk
18-and-under boys
Will Bond — Sixth in backstroke
David Falk — Second in breaststroke, fifth in butterfly and individual medley