Leavenworth County budget nears completion; Basehor emergency vehicle not included for 2013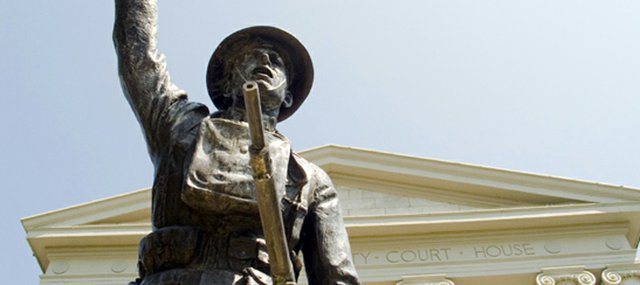 Leavenworth County's 2013 budget approached its final form Tuesday, with the only question likely left for county commissioners to answer being how much funding to allot toward road and bridge maintenance.
The commission's working budget will not fund a proposed new emergency vehicle for Basehor — at least not in 2013. But it would store away about $38,000 to put toward the cost in the future, which would cover half the expense of the vehicle itself. But whether the county will eventually fund the three paramedics necessary — a cost of more than $200,000 —remains a question for another year.
Also left off was a $30,000 contribution to the debt owed by property owners in Leavenworth County Sewer District No. 3 south of Basehor. The landowners last year were handed a bill of nearly $1.4 million for their state-mandated lagoon shutdown and connection to Basehor's sewer system.
Commissioner John Flower had proposed the $30,000 as an annual contribution from the county to alleviate the burden on the landowners because they're set to pay for a sewer connection that will allow for future homebuilding in the area in addition to their own sewer usage.
Commissioners Clyde Graeber and Bob Holland said they couldn't support the expenditure. Graeber said he was concerned that it would not follow state law, which dictates that any development-related county expenditure must benefit the entire county, not just a portion.
"Nothing of this type has occurred anywhere in the state of Kansas before," Graeber said.
Flower said he agreed that there were legal questions but to help out the landowners would be the "morally right thing to do."
"I am sorry that we made that decision," Flower told upset sewer district residents present at the meeting. "It's not one that I think is right."
The commission ended its day with its working budget allowing for about $466,641 more in expenditures while keeping the county's mill levy steady — something Graeber has stated several times is his goal.
Flower suggested that the commissioners offer about $300,000 of that money to the public works department for road and bridge maintenance, along with up to $425,000 available from a reserve fund. That would fall short of the $1.3 million the department requested for maintenance costs, but it would keep the mill levy stable.
Among the larger budget additions approved by commissioners Tuesday were $90,000 to set aside for new accounting software in the future, estimated to cost about $270,000; and $70,000 for economic development purposes, including a $20,000 funding increase for the Leavenworth County Development Corporation and $50,000 to be used to fund potential business incentives.