Morning fire damages Tonganoxie home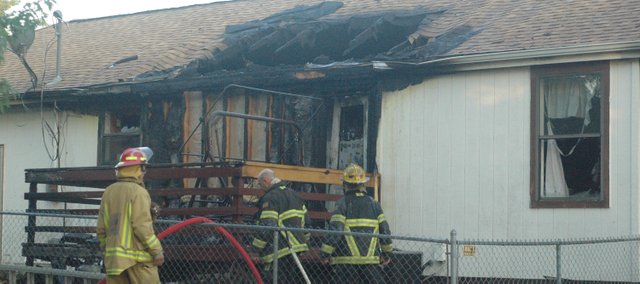 Wally and Dorothy Deckard watched early Tuesday morning as firefighters battled a fire in their Tonganoxie home.
Sitting across the street, they were flanked by neighbors and family, as well as Molly, their Yorkie. Nearby were framed photos of their four grandchildren removed from the home.
"I'm thankful him and I got out OK," Dorothy Deckard said. "And the dog got out."
Dorothy was awake when the fire started about 5:30 a.m. near the back deck of their home at 505 Laughlin St. She woke Walt up, and they, with their dog, evacuated the house safely. Neighbor Marcella Mann said she called 911 when she saw flames near an air conditioning unit near the deck.
Firefighters battled the fire, which spread to the house. Flames reached roughly 30 feet in the air, Tonganoxie City Fire Chief Dave Bennett estimated, but several departments called to the scene had the fire out after about two hours.
The ranch-style home sustained fire damage on the ground floor and attic, as well as water and smoke damage throughout the main level and basement.
"This is a good save," Bennett said. "This house can be rebuilt. There's a lot of damage, though."
The cause of the fire was not known Tuesday morning.
Tonganoxie, Stranger and Fairmount township fire departments also were on scene, as well as Tonganoxie police and Leavenworth County Emergency Medical Service.
The couple also lost a home in 1984 when they lived in Kansas City, Kan., Dorothy said. An electrical fire totaled that home, she said.