Farewell to the city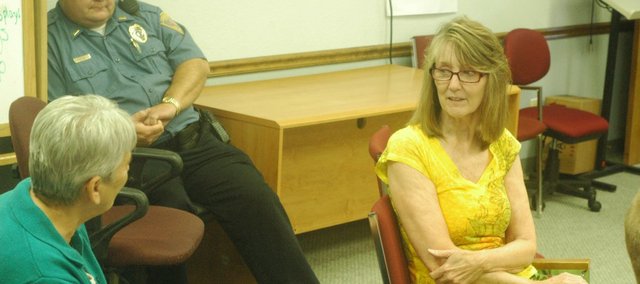 Mary Conway said she'll miss the people with whom she's interacted the last 12 years at Tonganoxie City Hall.
"As with any job, it was the people that made it enjoyable," said Conway, whose last day with the city was Friday. "The day-to-day contact you had and just being able to assist people. Just the people I worked with. They were all friendly — and accommodating … it's always hard to leave your friends behind."
Conway was honored at a retirement reception Friday afternoon in the City Council chambers.
City Administrator Nathan McCommon, who started his job in May, said he wished he could have worked longer with Conway.
"This is well-earned," McCommon said of Conway's retirement. "You have been invaluable to me."
Conway worked part-time with the city before becoming municipal court clerk in 2003. She replaced Karen Daniels, who retired as municipal court clerk that year.
She also had served as city clerk since January, when former city clerk Kathy Bard announced she would be taking a leave of absence because of illness. Bard died earlier this month following a six-month battle with lung cancer.
Of course, some were not ready for Conway's departure.
"I don't want you to leave," said Dave Bennett, Tonganoxie City fire chief.
Chiming in shortly after was Police Chief Jeff Brandau.
"I'm not happy," Brandau said.
Conway is a longtime Tonganoxie resident and graduated from Tonganoxie High School. She worked for 22 years at Hartford Insurance as an account manager in the employee benefits division before joining the city.
"I think it's a great place to work," Conway said of City Hall. "You're in town.
"As with anything, there are pros and cons … And I hope everyone thought I brought my best to the job. I know I tried. Tonganoxie is a great place to live and great place to work."
During her retirement reception, Conway was presented a plaque that read: "Retirement is a time to look forward, yet we look back at your 12 years of dedication and accomplishments with admiration. Thank you for a job truly well done."